Courier from Kollywood
Wednesday, August 26, 2015 • Telugu Comments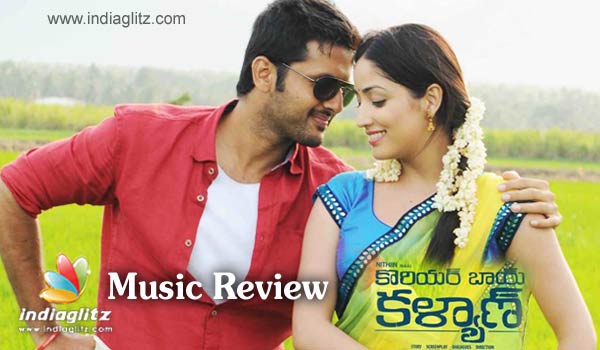 Having known this to be a bilingual, a good mix of Kollywoodian as well as Tollywoodian stuff was expected. This one delivers them in proportion. Balancing styles apart, the album boasts of striking lyrics.
Karthik, Megha, Sricharan, Anup Rubens and Suchitra on one hand make it a lively album, Baba Sehgal is there to deliver the bumper courier.
Maya O Maya
Artist: Karthik
Lyricist: Sreshta
Maya O Maya's melodious interlude is sure to give a taste of the Kollywoodian romantic ditty. Karthik's vocals are the first reference to Gautham Menon's style of soft male lead. Karthik's music is made to a template and the feel shines over everything else. Sreshta's lyrics are obviously the soul of a genre of this kind. A terrific beginning, complete with lively chorus.
Bangaramma
Artists: Karthik, Megha, Sricharan
Lyricists: Anantha Sriram, Sricharan Kasturirangan
This one should be watched out for the zany lyrical imagination. One can think of a Shankar-meets-Menon situation here. What follows is a cute directorial imagination - good amount of credit to the director, too. Karthik, Megha and Sricharan stuff the proceedings with jaunty vocals. While the music is AR Rehman-meets-Menon yet again, the lyrics stand out for the lyrics like these - ugliness turning into beauty (for example, black money into white!). A toast to Anantha Sriram and Sricharan.
Mandu Mandu
Artists: Karthik, Baba Sehgal
Lyricist: Sahithi
Baba Sehgal is a full-on Baba here. Such brandishing of a booming voice this. The English-peppered lyrics by Sahithi are playful. What is more striking is having Baba Sehgal's vocals in service of a 'mandu' number. With Nithiin, can we expect a complete image makeover? As for the music, this one is simply the best. It all begins like a modish musical with a profusion of desi body. And it takes time for the cultural potboiler to sink in.
Vaalu Kalla Pilla
Artists: Anup Rubens, Suchitra
Lyricist: Bhaskara Bhatla
The conversational mode of the number is appealing at once. The lyrics are like dialogues between two adolescents - the reason behind it being Bhaskara Bhatla. Anup Rubens' voice familiarizes to us Nithiin's particular kind of presence. Suchitra enlivens, as is her competency. Overall, it is a straightforward song involving a mundane situation. Music passes muster.
Verdict: The album is a combo customized to accommodate Gautham Menon's directorial vision and Nithiin's style. A good piece in so far as it offers an appealing lyrical imagination.
Rating: 3/5