Official coronavirus updates from Tamil Nadu government is here
Monday, April 20, 2020 • Tamil Comments
The Tamil Nadu Health Minister C. Vijayabaskar has updated that today 43 new cases have tested positive for the coronavirus in the state.  A 47-year-old sanitation worker at Rajiv Gandhi Government General Hospital in Chennai has tested positive and her family members of 5 including a 3-year-old baby also tested positive for the disease. All are admitted to Stanley Hospital in Chennai.  Two persons including a doctor and a 56-year-old have passed away taking the death toll to 17 so far.  
Total number of cases in Tamil Nadu has now risen to 1520 with the number of active cases being 1043  and 46 patients discharged today with tests conducted on 6,109 samples. Pudukottai which was a Green Zone District till yesterday with zero cases has now reported a single positive case.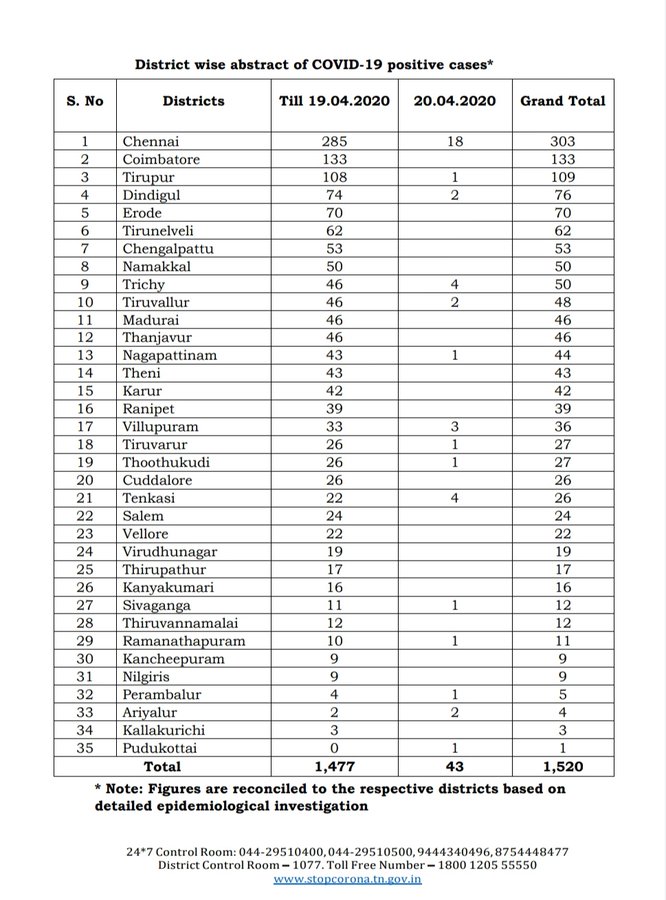 Vijayabaskar has shared that TN has so far made 46985 which are not random but focussed on those with the most vulnerability and chances of being infected high.  He also asserted that with 457 discharged the state ranks number one in India for positive outcomes.
Actress Photos
Yaashika Aanand
Pragya
Malavika Sharma
Ruhani Sharma