CM watches Panta, a day before release
Friday, June 23, 2017 • Kannada Comments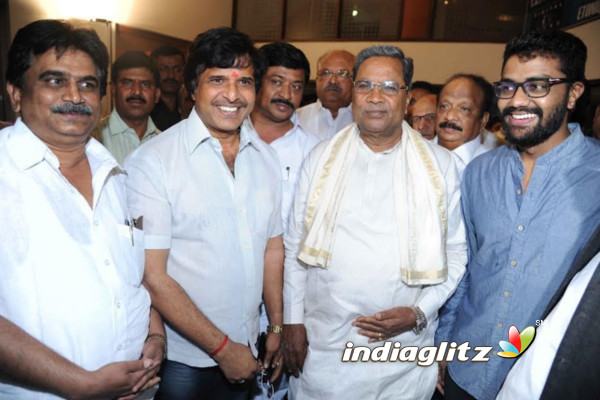 The Karnataka chief minister Siddaramaiah known as Punter` for downtrodden from his policies in the state took a few hours of his busy schedule to watch Kannada film Panta` at Renukamba Digital theatre in Malleswaram, Bengaluru on Thursday night. He watched the film a day in advance to public release.

The reason behind chief minister Siddaramaiah watching the film is because of his close association with hero`s father HM Revanna his long time colleague in Congress I. HM Revanna son Anoop plays the lead role in this Naa Panta Kano`. In the debut film of Anoop Revanna Lakshmana` also the Karnataka chief minister took part at the muhurut activity.

On Thursday night at 7.45 pm the chief minister Siddaramaiah came with his cabinet colleague information minister Roshan Baig to watch the film.

For watching a film by a state chief minister nearly 75 policemen were on duty with three hours advance security check at the Renukamba Digital theatre.

HM Revanna son Anoop Revanna is in his second film as hero. It is a debut for Ritiksha in Panta`. S Narayan has directed the film with music, screenplay and dialogues.

The chief minister with his cabinet colleague Roshan Baig was accompanied at the theatre by producer of the film K Subramanya, former minister HM Revanna, SK Bhagwan, Naganna, Om Saiprakash, senior actor Dingri Nagaraj and others.