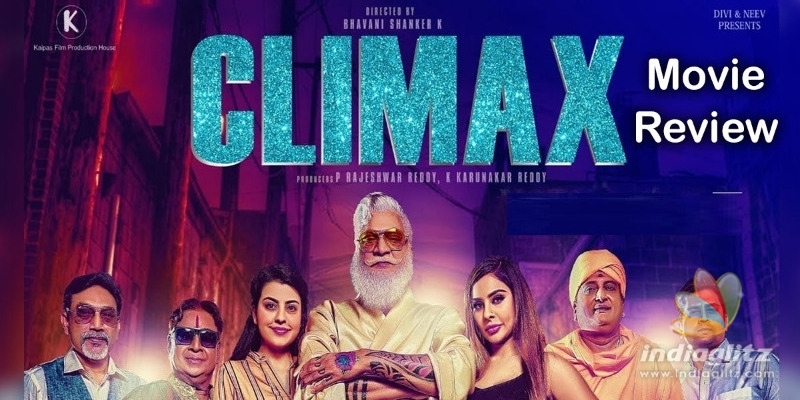 'Climax', a murder mystery thriller, has hit the screens today (March 5). Here is our review of the latest BO release.
Story:
Vijay Modi (Rajendra Prasad), an industrialist-cum-film producer, gets killed in the suite of a star hotel. The CID suspects a hostel girl, an unseen saree-clad woman, a businessman and a fourth character. Who killed Modi and what is their motive? The answer to this question is found in the climax.
Analysis:
Writer-director Bhavani Shanker K pens the film's story, screenplay and dialogues, too. He stages the thriller as a comedy, where the central character is a quirky man whose flaws are limitless.
As the film begins, a girl named Navya (Sasha Singh) is seen trying to impress upon her boyfriend to find a job. In the same city, she bumps into Vijay Modi and hints at lusting after him, making the old man wonder if he is still desirable at this age.
More than the story, 'Climax' is about how the characters are established. Vijay Modi is debt-ridden but is an emotional man who cares for his family. He is also a fallen politician nursing his wounds. He is busy making enemies all the time, appearing on TV to make regressive comments against women. He is a self-important womanizer who has stashed hundreds of crores in the suite of his hotel room, where he has been cooped up for a year.
When Modi gets to spend a night with Navya, he indulges in some empty philosophizing, which is narrated in the form of a rap. While he fashions himself as a Vijay Mallya, he is actually a parody. For all we know, he could give Sampoornesh Babu a run for his money, all the while coming up with weird ideas like underwear with a zip.
While the setup looks creative, the film is simplistic when it comes to dealing with the investigation scenes. The CID behaves like a bunch of nincompoops.
The film has a distracting set of banal commentary on how capitalism is actually cynical in the name of meritocracy. There is also this stupid cribbing about how Ravana is called a demon even though he never touched Sita while Rama is a hero who is not penalized for banishing his wife to the forest. It's stunning that a thriller that has got idiots passing for investigators has the gall to comment adversely on an Epic. But then, this is Tollywood.
Rajendra Prasad plays his role with ease. As a tattooed old man, he makes his eerie character look endearing. Prudhvi plays a fake baba, while Shivashankar Master is stereotyped. Sri Reddy, in a guest role, plays herself. Sasha Singh has got the right looks and talent for the role.
Verdict:
'Climax' has got an interesting premise. Its characterizations raise curiosity. However, when it comes to the investigation part, the film falls apart.
Rating: 2.5 / 5.0
Showcase your talent to millions!!
Write about topics that interest you - anything from movies to cricket, gadgets to startups.
SUBMIT ARTICLE
More
తెలుగు Movie Reviews
The American Dream
Hero
Rowdy Boys
Bangarraju
Veyi Subhamulu Kalugu Neeku
Atithi Devo Bhava