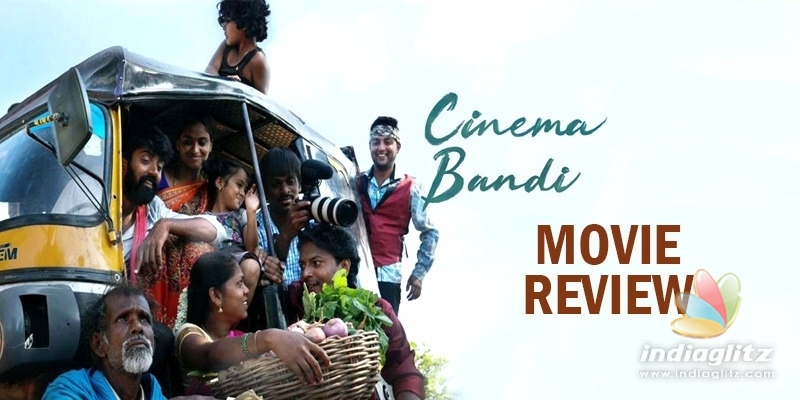 'Cinema Bandi' started streaming on Netflix from the midnight of Thursday. In this section, we are going to review the indie film.
Story:
In Krishna district's Gollopalli village, an auto-rikshaw driver Veerababu (Vikas Vasishta) is stunned when he finds a super-expensive camera in his auto. When a friend Ganapathy (Sandeep Varanasi), a wedding photographer, tells him that it is a HD camera with which feature films are shot, Veerababu thinks he should make a small film and make money. A barber christens himself as Maridesh Babu (Rag Mayur, who thinks of himself as a mini Mahesh Babu) and becomes the film's hero. The team is joined by Manga (Uma Yaluvalli), an old man (who is the script writer), and Divya (Trishara), a college girl, among others. Can they piece together a film with limited resources?
Analysis:
Indie films that have some quality are rare to come by. Producers Raj Nidimoru and Krishna DK endow 'Cinema Bandi' with resources. Debutant director Praveen Kandregula comes with craft.
Siuational comedy dominates the film for the most part. And the film is not without its share of 'Sreekaram'-type concern for the village. Characters talking about monsoon predictions and lack of uninterrupted power supply grounds the film in a relatable environment.
There was a time when director Teja, high on the success of 'Chitram' and 'Nuvvu Nenu', resolved to make a hero out of any and everyone. He promised to make a film with the son of a rikshaw puller. Veerababu in this film comes with the Teja-level confidence and casts a barber as the hero.
The humour is rich here and there, especially the scene where Ganapathy dumbs down the script.
There was place for an emotional scene between Veerababu and his wife soon after the former is insulted by Divya's elders. The film doesn't tap into the sense of destiny that Veerababu comes with. His emotional depth is wasted as he keeps planning basic things. All of a sudden, his mission is accomplished. The film, at less than 95 minutes, over-respects the audience's time.
The film struggles to shake off Veerababu's 'Swathi Muthyam'-type innocence with which he bugs the wedding photographer. The characters overdo their naivete. The small-time charm is impressive but only to a certain degree. The team of the film within the film being oblivious to their surroundings all of a sudden smacks of convenient story-telling.
The characters behave like jesters from the TV serial Amrutham. The barber launches himself into Sarvam-style parody comedy. They use the wrong choice of words and methodically fail to win the confidence of the villagers. Them chasing others like clueless bumbling romeos is cliched. The film could have benefitted from a Bithiri Sathi-type joker.
For a film which is about everyone being a filmmaker at heart, we don't get a sense that Veerababu is doing something novel or awesomely cute or experimental. And that's the biggest undoing of 'Cinema Bandi'.
Verdict:
'Cinema Bandi' rises to the occasion as far as its performances and music (by Satyavolu Sirish) go. The writing could have been deep.
Rating: 2.5 / 5.0
Showcase your talent to millions!!
Write about topics that interest you - anything from movies to cricket, gadgets to startups.
SUBMIT ARTICLE
More
తెలుగు Movie Reviews
Rocketry: The Nambi Effect
7 Days 6 Nights
Chor Bazaar
Sammathame
Kondaa
Godse