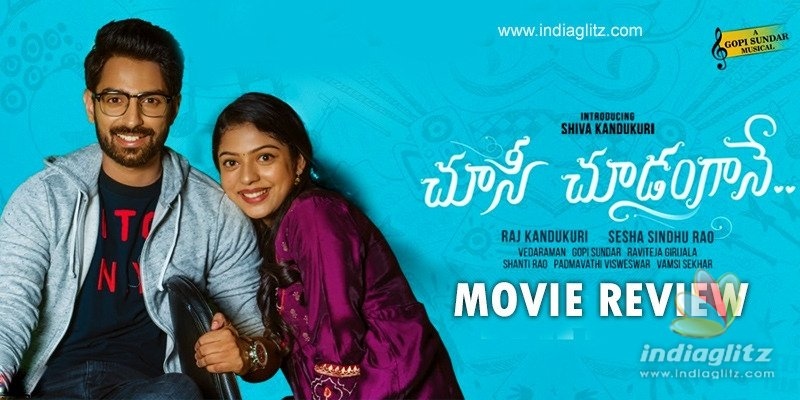 'Choosi Choodangane', a rom-com, hit the screens this Friday.  Here is our review of the latest box-office release that is at loggerheads with 'Aswathama' at the box-office.
Story:
Siddhu (Shiva Kandukuri) is an Engineering student who is in love with Aishwarya (Malavika Satheeshan).  This relationship doesn't work out and Siddhu is left heart-broken.  Years later, as a wedding photographer, Siddhu meets and falls in love with Shruthi (Varsha Bollama) accidentally.  But is it really an accident?  Or does destiny have more than what meets the eye?  
Analysis:
Director Sesha Sindhu Rao, it seems, is adept at keeping things measured.  In 'Choosi Choodangane', characterizations are apt (largely) while being not-so-straightforward, dialogues are concise, scenes come and go without overstaying their welcome, and songs are strictly unintrusive.
The initial scenes don't hint at the drama that is going to unfold in later portions.  There are these usual tropes of the male lead looking uncomfortable with the beaten path of pursuing Engineering and him finding love quite early on.  Give the film 20 minutes and watch it take a 7-year leap.  This is when things become substantial and even suspiciously breezy.
Varsha Bollamma as a musician aspiring to become a feature film music director is an absolute treat to watch.  The 'Whistle' fame actress, who gets to emote a range of emotions (she has to look lighter-veined, energetic as a drummer, vulnerable in a relationship) is spot-on.  The internal churn within her should have been established in a better way by the writing department.  
While Varsha sheds her rigidity, her changing demeanour makes the 7-year leap of the film look convincing.  On the other hand, debutant actor Shiva Kandukuri somehow struggles to showcase the emotional churn within.  This could be an issue with the script.  Or, maybe, the director didn't want things to be too serious.  His character might be suffering from inferiority complex or some other psychological issue. But does he bring that out?  He makes the somewhat troubled character look glamorous.  
There is this role reversal at the male lead's home (his father is a 'house husband', we are told), but the director doesn't make it look like a caricature in the name of comedy.  When her son vents out frustration, Siddhu's mother (Pavithra Lokesh) shows empathy.  It's a relief that the suitor of the male lead's love interest is not a joker in this film.  Ninety per cent of Tollywood directors would have shown him as a cartoon or a cheap bugger.  
Comedian Venkatesh Kakumanu is yet another revelation.  With strong roles and hilarious lines, he can join the league of happening comedians.  
The climax could have been dramatic.  All we get is some feel-good entertainment that literally disallows emotional catharsis.  
Gopi Sunder's songs are melodious and fit the bill.  The BGM is neither outstanding nor unremarkable.  Vedaraman's cinematography delivers goods.
Verdict:
'Choosi Choodangane' is a rom-com that doesn't resort to low-hanging fruits.  It has an interesting plot.  Don't expect a Sekhar Kammula-type entertainer.  Suffice it to say that it's watchable.  There are stretches that could have been far more engrossing. 
Rating: 2.75 / 5.0
Showcase your talent to millions!!
Write about topics that interest you - anything from movies to cricket, gadgets to startups.
SUBMIT ARTICLE
More
Telugu Movie Reviews
Battala Ramaswamy Biopikku
Cinema Bandi
Thank You Brother
Shukra
99 Songs
Dheyyam