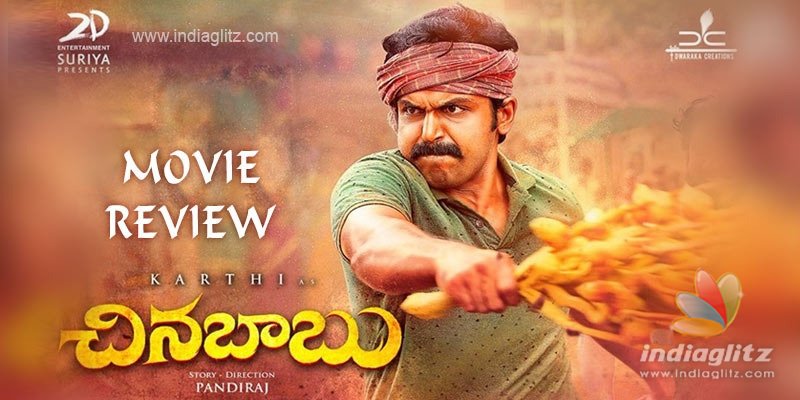 'Chinna Babu', starring Karthi in the lead role, hit the screens this Friday.  Here is our review of the family entertainer.
Story:
Krishnam Raju (Karthi) is the only son of the twice married Rudra Raju ('Kattappa' Sathyaraj).  Born after five elder sisters, he is not a pampered son but the one who goes out of his way to keep his family happy and united against all odds and misgivings.
A hardcore farmer, Krishnam Raju knows just two things: loving agriculture and showering love on his family, especially his sisters.  The grown-up daughters of his sisters, Radha (Priya Bhavani Shankar) and Indira (Arthana Binu), are in love with him.  
In the meantime, the hero sends Shatru, a caste-obsessed local politician, to jail for the honor killing of a lower caste boy.  The hero also falls in love with Neerada (Sayyeshaa), the niece of the villain.  
Problems arise in the family as the sisters are hell-bent on getting one of the girls married to the hero.  The villain too is baying for his blood.  How the hero keeps his family from falling apart and also subdues his enemy at the same time forms the rest of the screenplay.
Analysis:
In 'Chinna Babu', characters have a world of their own.  The joint family of Rudra Raju is a micro-community in itself.  When your director is not satisfied with superficiality, he makes a thoroughly emotional film like 'Chinna Babu'.  
Karthi plays a youngster for whom farming is not just a profession but a mission.  For him, Ram and Lakshman (his bulls) are his brothers.  When they die, it's a tragedy for the entire family.  If you go to Rudra Raju's home as a guest, you will get a sapling as a complimentary.  Right in the beginning, we are told by an aspiring people's representative that this is not any other family but a vote bank in itself.  
What happens when cracks develop in such a largely semi-united family (exceptions are there) that could be Srikanth Addala's delight?  Not those (sometimes contrived) tear-jerkers that we get to see in a 'Shatamanam Bhavati' or a 'Govindudu Andarivadele'.  Pandiraj's scenes are both slice-of-life and comical.  He draws on the foibles of the sisters and their husbands to evoke laughter even while everybody out there is too closed-minded to understand the noblest intentions of the Sathyaraj-Karthi duo.  Comedian Soori becomes a funny commentator and a passive witness to all the circus around him.
Pushed to a corner, Rudra Raju calls for a family meeting.  Bhanu Priya, a heartbroken family member, refuses to even see him.  Others cross their limits in questioning Rudra Raju's intentions.  In an artificial family drama, the old man would have had a heart stroke in this scene.  But 'Chinna Babu' belongs to a different realm.  A long scene where different family members express their insecurities and frustrations follows.  They surely have petty egos.  Rudra Raju, hitherto behaving like a joint family Gandhian, gets harsh.  One sad sister loses her sense of proportion and says that she should be given a sari so as to ritualistically be done with all ties from now on.  The audience is supposed to empathize with both this pitiably disquiet woman and her devastated brother.
Another long scene involving all major characters takes place in the climax in the precincts of a temple.  The dialogues are so natural that Pandiraj might have made his artists to view a series of docufeatures on family squabbles in the Indian countryside before getting them on board for this realistic scene.  
Karthi's character spends much of the film in keeping the family from falling apart. In an artificial family drama (which is what most family dramas are), Sathyaraj's character, Soori's character, Sayyesha's character and even the two bulls (why not?) would have spent a disproportionate amount of time in hailing his greatness.  But in 'Chinna Babu', his soft nature is given a brief but impactful elevation.  
There is no romanticization of family unity.  In one of the scenes, they are divided into gossip camps during a special occasion.  It's not planned or conscious for them.  They have been like this only.  
If the rom-com track involving Karthi and Sayyesha is underwhelming, the Karthi-Soori track is winsome.  The script did need a baddie but for all its brevity, the Shatru track is somehow not so interesting.
Karthi is a complete package.  He is so different from his other brilliant performance, in 'Khakee'.  He spiritedly gets into the character of the farmer, and since his passion shows in his body language the long drawn speeches about the importance of agriculture don't sound like propaganda preaching.  Sathyaraj as the family patriarch is a strong presence.   Sayyeshaa the leading lady looks pretty and has tried her best to fit into the role of the village belle.  Priya Bhavani Shankar and Arthana Binu excel, especially when they get to know Karthi's love for Sayyeshaa with the former going all aggressive and the latter bottling up her emotions.  Viji Chandrasekhar and Banupriya as the mothers and Mounika, Yuvarani, Deepa, Inthumathi Manikandan and Jeevitha Krishnan as the sisters are the pillars on whom the entire screenplay hinges and its a standout performance by each one of them and all of them have ample scope to own at least one scene each.  
Cinematographer Velraj's choice of color, lighting and subjective angles transports the viewer into the green countryside.  D Imman's songs are OK and the background score gives a sense of deja vu.   Ruben packages the lovely footage he was given neatly but the length could have been sharpened.
Verdict:
'Chinna Babu' is an enjoyable family entertainer that avoids routine scenes.  The conversations are very much realistic.  The scenes are both cinematic and organic.
Rating: 3 / 5.0
Showcase your talent to millions!!
Write about topics that interest you - anything from movies to cricket, gadgets to startups.
SUBMIT ARTICLE
More
Telugu Movie Reviews
Alanti Sitralu
Love Story
NET
Maestro
Gully Rowdy
Thalaivi