Music Review
IndiaGlitz [Thursday, October 6, 2016 • தமிழ்] Comments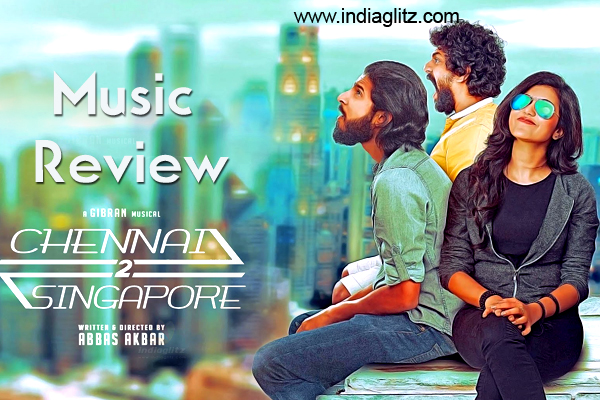 Chennai 2 Singapore is an upcoming movie which has Gokul Anand, Rajesh and Anju in the lead cast with Ghibran taking the role of a music composer.
Ro Ro : Listen Here
An orthodox song of this album which gives you a dejavu feel from various other tunes put together. Ghibran is not at his best but is helped by modern day Jazz and vocals from lead singers. Relying more on Piano and impulsive orchestration the track goes back and forth reminding of the composers signature.
Gun Inbam: Listen Here
The song itself is an enigma to start with, the composer blends modern day transition with a lot of Jazz and hippy instrumentation to drive home a varied number. With an array of singers at disposal the song is at its natural variety going with interesting overtures and whitish folk fare.
Texas Pogiren: Listen Here
You start wondering if the song really is for Kollywood or one for the International Billboards, shoots out like an energy pack with Narrow smith and Sharanya flowing with the reverberating tunes. Letting the vocals take the lead, the tune gets into groove with smooth string sections and some high ended guitar segments. A fresh rock song from Ghibran and team.
Poda: Listen Here
Trying to experiment, Ghibran brings in RJ Balaji and Abhishek by infusing some hardcore rap elements and variety of kuthu segments too. The rhythmic pattern is followed by some innovative usage of electric guitar with the bass level that oscillates quite too well. As in any other composition the experimentation to mix rock and Tamil kuthu paves off.
Vadi Vadi: Listen Here
A clean solo from Yazir is potentially one of the best bet of this album. Taking grace with an International touch, the engaging rhythm and casual guitar gives a fresh outlook. Making amends are Rajan's humorous lyrics getting in line with the current trend.
Pogadhe: Listen Here
As is the title of this track, the minimal orchestration of this song makes it more emotional with Rajan crisscrossing with variable pitch tones. A good solo with yet another Jazz touch makes it an engaging listen especially through the beginning of each saranam.
Pogadhe (Female version): Listen Here
Some compulsive violin segments and rather a memorable vocal from Suthasini makes it a good listen in the end. Mixing the same tune with varied folk elements and top notch violin sequences, the tune gets upped rather smoothly.
Verdict : Ghibran gets you hooked
Rating : 3/5