Endlessly playable
Monday, September 24, 2018 • Tamil Comments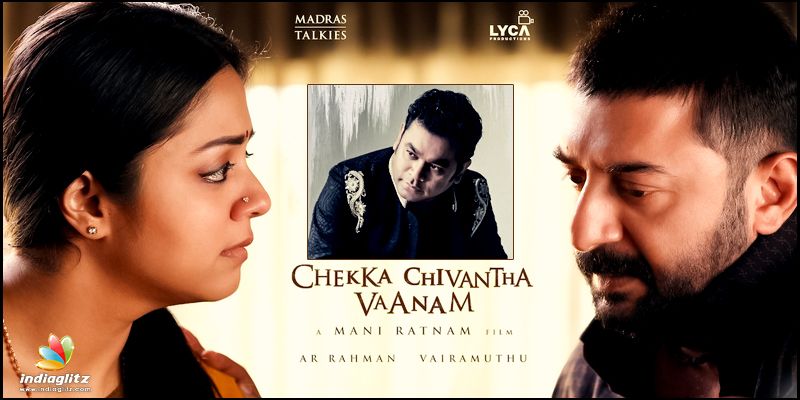 Chekka Chivantha Vaanam - Endlessly playable
'Chekka Chivantha Vaanam', needless to say, is riding on very high expectations from the time of its announcement. And this time music fans are eager- talk about the magic trio getting together once again- Vairamuthu, AR Rahman and Mani Ratnam have given us impressive albums. And this time too, obviously we want more. And here it goes. . .
Bhoomi Bhoomi: Singers: Shakthisree Gopala, Lyricist: Vairamuthu
It may not be as earthy as its title, but definitely refreshing. There's a lot of intermittent 'vacuum' which contrastingly the completes the song- in terms of character, soul, and aesthetics. Be it the hypnotic guitar reams, Vairamuthu's scintillating lines or Shakthishree Gopalan's mesmerizing rendition or how generally the song's structure blossoms out, you have no option but to surrender to Rahman here. Definitely on loop mode.
Mazhai Kuruvi: Singers: AR Rahman, Lyricist: Vairamuthu
Mazhai Kuruvi is on the mellow side. Rahman has rendered his voice for the song and it's definitely a pleasure to hear him go light for the track. However, some might feel the song's rhythmic pattern is slow-moving and trying. But this ode to nature will require you to be in a setting that actually lets you slide in deep. Mazhai Kuruvi is a musical stroll by the riverside. 
Sevandhu Pochu Nenju: Singers: Sunitha Sarathy, Arjun Chandy, Sathyaprakash, Lyricist: Vairamuthu
Sevandhu Pochu Nenju is an intense composition. Not only in the score, but also in its lines as Vairamuthu has given splendid lyrical play for the track. The beat patterns help escalate the song where Sunitha's vocals ease the transition.  Alliterative elements like sol, Jim in the track are as enjoyable as the seriousness of track as well. Verdict: This song is swag.
Kalla Kalavani: Singers: Shakthisree Gopalan, Lady Kash, Lyrics: Vairamuthu
Shakthishree has given an amazing rendition for Kalla Kalavani, as usual. The shrill that her initial portions carry is only complemented by the blunt beats and Lady Kash's stretches. Not to mention the scintillating background accompaniment that elevates the track to a stylistic experience as well. A definite spot in the playlist!
Pick  of the album: Sevandhu Pochu Nenju
Verdict: Though only four tracks, AR Rahman has nonetheless given a solidly satisfying album
Rating: 3