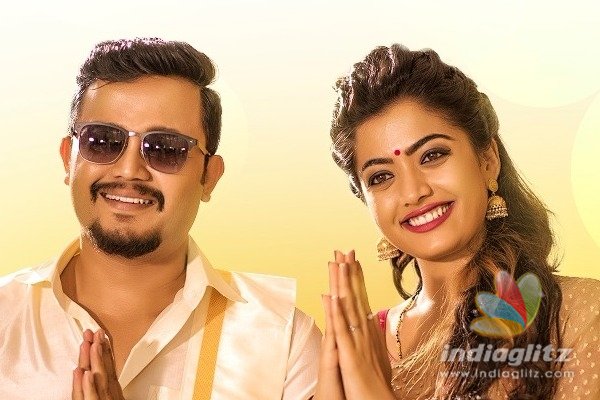 Title – Chamak, Producer – TR Chandrasekhar, Direction – Suni, Music – Judah Sandy, Cinematography – Santosh Rai Pathaje, Cast – Ganesh, Rashmika Mandanna, Sumithramma, Sadhu Kokila, Kumari Charitrya, Giri, Hanumanthe Gowdru and others.
It is entertainer in good style!
It is a fun filled entertainer for the family audience. Director Suni has looked at the ultra modern society in his imagination. The high profile life of party and pub culture today is a temporary enjoyment, in life emotions are very important he has focused with a convincing style. Director Suni lives up to the expectations in this lively film.
'Chamak' film giving surprises quite often is best part of this film. Some are costly, emotionally breaks out, interestingly woven to make a cool watch. Simple Suni as director looked at the possibilities of entertainment and a strong dose of sentiments settles the scores of all tantrums done previously.
The first time producer TR Chandrasekhar immense love for quality is evident in every shot of the film. The interiors are grand and exteriors are very pleasant to watch.
'Chamak' is 145 minutes film with protagonist Dr Kush – a gynecologist finally agreeing to the family members marries Kushi (Rashmika Mandanna). Both after marriage give 'Chamak' – they reach out to parties and fly in intoxication – the liberty of life both does not want to give up.
How long this duping each other continues? They immediately come to an agreement to live as friends and later take divorce. Not knowing to the elders they contact the advocate for that the basic requirement is stated as one year to separate. In this gap before divorce various circumstances make them to admire each other.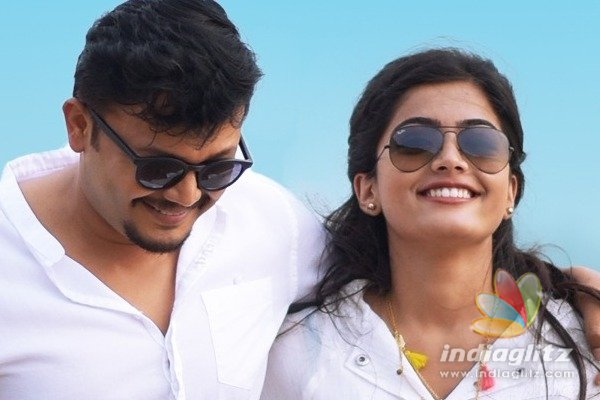 The biggest 'Chamak' when the news of Kushi becoming pregnant. At this time she is with her parent's house. When Kush realizes to join Kushi there is a villain who spoils the rejoining of the couple.
Rest of the developments is a 'Chamak' that audience should enjoy. It is a film for the youths of today and those who marry by compulsion giving up the sentiments in life. Finally it is the sentiment very important opens up on screen.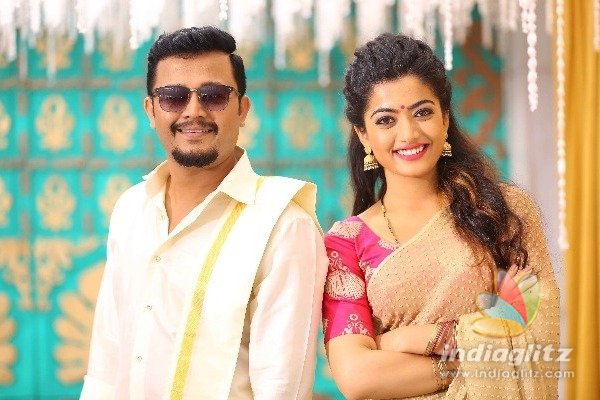 Ganesh looks very sweet and costume designing, new hairstyle beard is very attractive. For Rashmika Mandanna a performing actress it is like a rehearsal before marriage in real life with Rakshit Shetty.
Cute child Charitrya daughter of Ganesh in real life is a daughter on screen has a lively short presence. Hanumanthe Gowdru, Vijayalakshmi, Sumithramma are apt to the roles. The Chamak from Sadhu Kokila is that a comedy actor is a villain in this film.
Santosh Rai Pathaje is glorious in his camera but there was problem in screening for first fifteen minutes in Narthaki theatre, Bengaluru.
Judah Sandy loves more sound it seems. The music is not up to the mark of benchmark set by previous Ganesh films.
A film for this generation is also a lesson from old generation to this generation!
Rating: 4 / 5.0
Showcase your talent to millions!!
Write about topics that interest you - anything from movies to cricket, gadgets to startups.
SUBMIT ARTICLE
More
Kannada Movie Reviews
Vanilla
Hottegagi Genu Battegagi
Seizer
Tagaru
Googal
Raja Simha