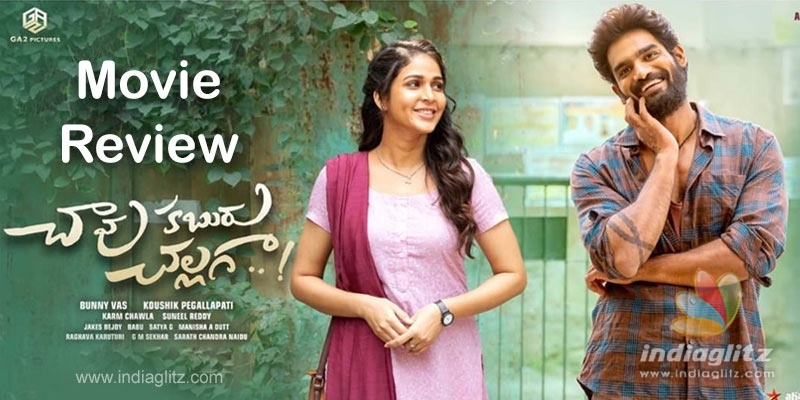 'Chaavu Kaburu Challaga' hit the screens today (March 19). Here is our review of the latest box-office release.
Story:
Basthi Balaraju (Kartikeya Gummakonda) falls in love with Mallika (Lavanya Tripathi) when he goes to her place to pick up her dead husband. As the driver of a vehicle conveying dead bodies, he deems it entirely fit to fall in love with a widow at a funeral. But Mallika has no feelings for him and is disgusted with his incessant wooing. Her father-in-law (Murali Sharma) is equally miffed.
A twist takes place in Balaraju's life and it involves his mother (Aamani). What is the twist? How does it affect his love story? Will Mallika and her father-in-law accept Balaraju's overtures? Answers to these questions are found in the course of the film.
Analysis:
Writer-director Koushik Pegallapati stages the somewhat emotionally heavy story in a cinematic way. There is a tragedy in the pre-climax phase, something that looks formulaic and yet deepens the story.
Kartikeya shines in the role of a driver who carries the attitude of a typical Telugu film hero. His intro is presented with a Chiranjeevi song in the background as he sits in the hearse the way Vijay was seen in Master's intro scene. By and by, the protagonist makes his philosophy clear - Every problem has got a simple solution, he declares. When he says he had goosebumps as he watched Mallika crying, we remember the villain from Mahesh Babu's 'SPYder'.
It helps that Aamani plays an atypical mother, who drinks rum and may well have a lot to pour out. Her paralyzed husband is treated like a comedy cardboard character and it is a turn-off.
The first half is limited to Balaraju struggling to impress Mallika, who is widowed and is yet to overcome her grief. There comes an inflection point when Mallika speaks her mind. Eventually, though, the trajectory of the love story takes off in the second half.
The main love story becomes a side note in the initial portions of the second half when the protagonist's mother becomes a central character. Murali Sharma gives way to Srikanth Iyyengar, who gets to play one of the well-written characters of the film.
Bhadram and Mahesh Achanta are reduced to mere observers of Balaraju's stalk-a-thon.
It would have helped had Balaraju been shown to be wooing Mallika a couple of years after her husband's death. That way, the story would have been more believable. It's stunning that Mallika's in-laws don't look like their son has just died. 'CKC' trivializes genuine situations and dumbs down pain in an attempt to play to the gallery. All in the name of humour. Black humour, to be precise.
Lavanya Tripathi gets to play a well-rounded role. After 'A1 Express' earlier this month, she is good one more time. She doesn't get to behave like a typical female lead for a good part of the film. That's a plus. Karm Chawla is joined by cinematographer Sunil Reddy; their visuals are better. Jakes Bejoy's music infuses life into several proceedings.
Verdict:
'Chaavu Kaburu Challaga' is a watchable film where heavy-duty emotionalism is restricted to the final moments.
Rating: 2.75 / 5.0
Showcase your talent to millions!!
Write about topics that interest you - anything from movies to cricket, gadgets to startups.
SUBMIT ARTICLE
More
Telugu Movie Reviews
Most Eligible Bachelor
Maha Samudram
Konda Polam
Republic
Alanti Sitralu
Love Story