Playfulness is the word
Saturday, May 7, 2016 • Telugu Comments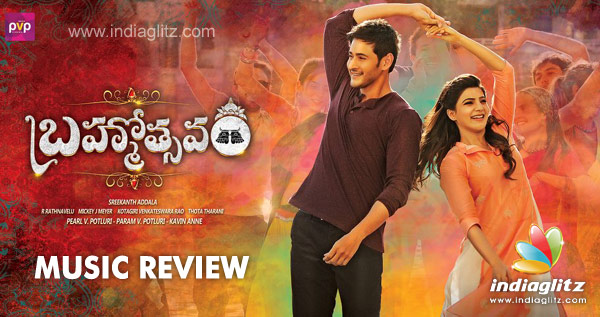 The album comes with lyrics from Sirivennela Seetharama Sastry, Srikanth Addala and Krishna Chaitanya, besides two folklore songs. Abhay Jodhpurkar, Padma, Sridevi, Sriram Chandra, Karthik, Anjana Sowmya, Ramya Behra, Rahul Nambiar, Shravana Bhargavi, Mickey J Meyer are the singers.
Vacchindi Kada Avakasam
Artist: Abhay Jodhpurkar
Lyricist: Sirivennela Seetharama Sastry
Abhay Jodhpurkar, who has sung 'Ya Ya' in the recently-released A Aa, has rendered this number. The singer has a baritone that is exhilarating in its sound, so it's more than apt for a song of this genre. Mickey J Meyer's music is inspired from his own previous works, with a pronounced Happy Days hangover seen. Lyrics by Sirivennela Seetharama Sastry are markedly everyday in terms of the language used. Peppered with a good number of English words/phrases (a new for a family song, for example, ABCD is given the acronym of Anybody can dance), the song exhorts one and all to "live for the moment" and shoo away the worries.
The song is in the typical Srikanth Addala mould, complete with celebratory mood, lively faces, inspiring lyrics, and a family get-together.
Madhuram Madhuram
Artists: Padma, Sridevi
Lyricist: Traditional
The song serves the purpose of glorifying the hero as that idea one. Padma and Sridevi choruse in the traditional mould; their vocals come with that pristine Carnatic touch. The lyrics are an agglomeration of a few purely Telugu words. Mickey's music makes an impact because he mixes the traditional with the modern, especially through instrumentation.
Brahmotsavam
Artist: Sreeram Chandra
Lyricist: Sirivennela Seetharama Sastry
Mickey has that unmistakable Happy Days hangover. But over here, he improvises upon it and ensures the celebratory mood is well carried throughout. Sreeram Chandra has that charming voice that eminently suits the song, which is about a youngster rediscovering his roots. The lyrics get poetic as well as metaphysical when the protagonist wonders if he has to discover something that spans lives. All in all, an electrifying song in the sense of a family number.
Aata Pataladu
Artist: Karthik
Lyricist: Srikanth Addala
The song is themed around the film's story. The lyrics mirror the protagonist's optimism and, it goes without saying, Karthik's vocals that come with youthfulness and purity are apt for this number. One also feels the song will be that much more elevated on the big screen when we see it as part of the story. Meaning-laden lyrics ensure that the song makes a profound sense. Mickey's music only complements the excellent work done by the lyricist and the singer. All in all, an exhilarating number.
Naidorintikada
Artists: Anjana Soumya, Ramya Behara
Lyricist: Traditional
The song is in the mould of those folk songs sung by the village belles. In the Telugu countryside where such songs are commonplace, family names are invoked in a light-veined manner. Anjana and Ramya Behara choruse with aplomb. Their vocals are striking and bring to the song much-needed zing, without sounding too rustic. The lyrics are faithful to folkish traditions. Mickey resorts to a soft melodic influence and laces folkish music with it.
Bala Tripuramani
Artist: Rahul Nambiar
Lyricist: Krishna Chaitanya
The album's only full-fledged romantic song is a mild disappointment. Music-wise, it's not catchy. One feels there is nothing worthy of humming. However, the lyrics are entertaining and come with large doses of playfulness. Rahul Nambiar's sharp vocals here give way to some mildness. All in all, one ought to wait for the picturization to make the song more appealing.
Put Your Hands Up
Artists: Shravana Bhargavi, Mickey J Meyer
Lyricist: Krishna Chaitanya
It's time to party now. In an album essentially traditional in tone and tenor, this song is the odd man out. Entertains in bits and pieces. Again, it depends mostly on the context that the song comes in. Shravana Bhargavi's knack for pulling off songs like this needs no introduction. Kudos to her for bringing pep to the proceedings. The lyrics are full of positivity, something that is there all throughout the album.
Verdict: An album with a pronounced traditional (and in one place, even folkish) sound and patois. It's Mickey all the way, helped by a range of singers. The lyrics are a cause of celebration for the language lovers.
Rating: 3.25/5