An Anurag Kulkarni musical
IndiaGlitz [Monday, February 10, 2020 • తెలుగు] Comments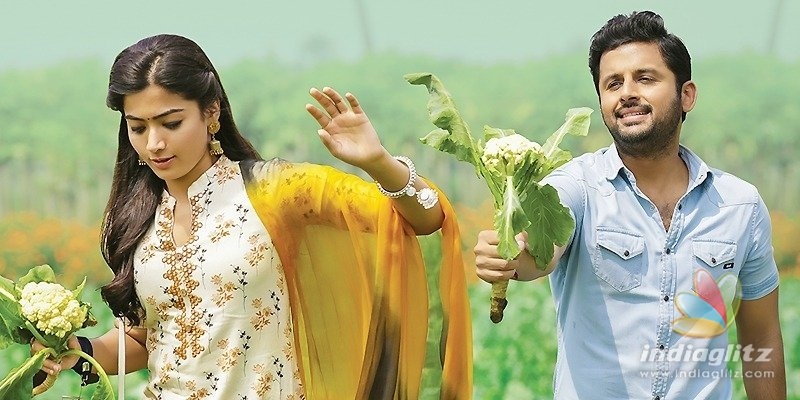 The first single from 'Bheeshma' is out, on Aditya Music.  Here we present its review.  The other songs will be reviewed as and when they are out.
Single's Anthem
Singer: Anurag Kulkarni
Lyrics: Shreemani
Mahathi Swara Sagar takes a leaf out of Anirudh Ravichander's style of music.  It's all deja vu.  Shreemani's lyrics are littered with English-language words.  He gets the rhyming right: 'Mingiley' and 'Ranguley', 'Mentaley' and 'Mantaley', etc.  The 'Ramuloo Ramulaa' sensation Anurag Kulkarni does a nice job of toning his voice down to suit the boyish vibes of the song.
Whattey Beauty
Singers: Dhanunjay, Amala Chebolu
Lyrics: Kasarla Shyam
Kasarla Shyam is becoming a seasoned writer of 'item' songs that have a dash of Bhaskarabhatla-ness.  'Whattey Beauty' has those archetypical Telugu cine lyrics that extol the beauty of the heroine, only to complement it by appeasing the male lead.  Dhanunjay's voice is youthful, while Amala's voice strikes the right naughty chord.  Musically, this one is a winner; Mahathi wears the hat of a music director for the front-benchers even as the dance choreographer seems to have delivered a dekko.
Sara Sari
Singer: Anurag Kulkarni
Lyrics: Shree Mani
The music director delivers a foot-tapping number that is enlivened all the more by Anurag Kulkarni's infectious voice.  It's somewhat spiritually like 'Choosi Choodangane' from 'Chalo', also by the same musician-singer combination.  The interludes of guitar and flute are chirpy, much like Mani Sharma's songs used to be.  Shree Mani's lyrics are enjoyable.  All in all, a nice song that also lends itself to interesting dance moves.