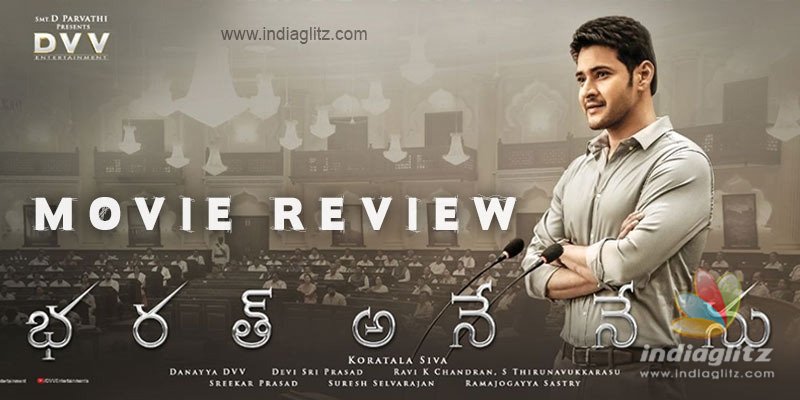 'Bharat Ane Nenu', starring Mahesh Babu in the lead, hit the screens this Friday.  Here is our review.
Story:
When his father Raghava Raju (Sarathkumar), incumbent Chief Minister, passes away suddenly, Bharat Ram is thrust into the CM 'kurchi' by the ruling party's patriarch Varadaraj (played by Prakash Raj).  The youngster, who just returned from London to perform his father's last rites, reluctantly accepts the position.  
From word go, Bharat starts to strike at the root of problems with boldness. Unpopular decisions are his way.  Day by day, his popularity in the state (the film is set in united Andhra Pradesh) soars.  Meanwhile, he also falls for Vasumathi (Kiara Advani), a research scholar working on a government project.
Bharat's decision to prosecute the son of the Leader of Opposition becomes his undoing.  The failure to secure justice backfires and threatens to dent his popularity.    
The rest of the film is about how he tries to rise against all odds (threats posed by known and unknown quarters), only to fall prey to a conspiracy in the anti-climax phase.  
Analysis:
Koratala Siva is nothing but formula plus clever messaging (an emphasis on idealism, among others).  'Srimanthudu' was NOT about changing the face of a village, 'Swades'-style.  If anything, billionaire Harsha does it in the course of a song.  It was about how this Harsha fights politically-powerful land sharks with his guts.  'Janatha Garage' was NOT about environmental activism.  It was mostly about a gusty son of an iconic mechanic (incidentally, he is an environmental activist) who fights against entrenched interests with his guts.
'BAN' falls in the same category.  What if Bharat was a cinematic son or a heroic loyalist of an ideal Chief Minister, acting as the sole protective shield of the CM?  Or what if he was just a Minister or an MP?  It wouldn't have been sexy at all.  So, Koratala makes him the CM himself.  Rest of the story is formulaic, true to his style. This is not to say that it's just about one gimmick.  Bharat being the CM himself makes it possible to have at least 4-5 exciting scenes.  This wouldn't have been possible had the hero's character been something else.  
The emphasis on keeping up a promise is an instance of clever messaging.  In 'Srimanthudu', Harsha was an outsider who comes equipped with the knowledge of rural reconstruction.  In 'BAN', Bharat is an outsider who comes equipped with the awareness of how life is structured in the West, where he grew up.  Both are English-savvy.  Both are well-mannered.  Both can fight like a typical mass Telugu cinema hero.  Bharat is a convent-educated, hyper-enhanced version of 'Muta Mestri'.  In other words, he is a mix of time-tested formula plus Koratala's something-else.
The biggest highpoints have to be those scenes where Bharat asserts himself in the presence of officials/Ministers.  His earnestness is almost infectious.  When people become his fanboys and fangirls, we actually find it convincing.  
To the extent that the film avoids simple-minded solutions, 'BAN' at least spares us of the kind of imbecility we saw in a 'Cameraman Ganga Tho Rambabu' or an 'ISM'.   
When Bharat loses an important battle in the court, the way people start seeing him is utterly realistic.  "The common man is punished with heavy fines for disobeying traffic rules, but big the scamsters go scotfree," they say, almost reflecting the common refrain of the middle-class in today's India (Nirav Modis flee the country while the taxman continues to harass the commoner, we hear people say).  Don't raise people's expectations too much is another lesson Bharat learns.  Another very realistic point.  
Bharat comes up with solutions like decentralization, which is opposed by entrenched vested interests in his own party.  Yet, the party organization doesn't threaten to crumble down a wee bit even in the face of tectonic changes.  Until a character hatches a conspiracy against the CM, there seems to be nothing to threaten the guileless dynast that is Bharat.  Happens only in a La La Land!
Koratala's dialogues are overrated.  Just consider the scene where a bunch of usual suspects tries to impress upon Bharat to compromise.  Yes, that's the way real-life politicians think.  But is that the way they would talk to a CM, like Rao Gopal Raos and Rami Reddys of a bygone era?  
Prakash Raj comes across as the super-cabinet right from word go.  There is no much of a surprise in store with respect to him.  
A by-election becomes Bharat's prestige issue but the way it's handled leaves much to be desired. For a CM to think that physically overpowering baddies will buttress his credentials to rule the state is laughable.    
And the finale is the most simplistic.  Bharat emotionally hits out at unethical journalism and voila, people regain their senses and robotically restart rooting for him.  
The Assembly session segments are short-lived.  They come with cinematic liberties, especially where Posani openly disagrees with the CM despite being from the ruling party!  Prudhvi and others are short-lived.  However, the Art Director's work in these scenes is remarkable.  
Kiara Advani goes missing from the scene far too many times.  It's time for a romantic duet here and there when she is around.  Like in 'Srimanthudu', the heroine's intelligence is overpowered by the hero's charms.  
What makes the film Mahesh Babu's one-man show is not just Bharat's character but also his acting.  As an authoritarian leader, he packs a punch.  When he fights back tears, he is immensely lovable.  As a lover boy, he shows grace.  Prakash Raj is good enough with his variations.  Kiara Advani comes with traces of starry grace.  Her talent is yet to be explored, one feels.  
DSP's songs get full justice in terms of picturization, especially 'Vacchadayyo Saami' and the montage title song.  His BGM brims with gusto in some crucial episodes.  Ravi K Chandran and Thirru do a splendid job with cinematography.
Verdict:
'BAN' is a mix of oldness (formulaic story) and newness (hero's character, his solutions as CM).  It's also a mix of realism and cinematic fantasies.  It's a mix of highpoints (Bharat's key scenes in which he heralds reforms) and lows (the usual machinations).  A brilliant performance by Mahesh Babu!
Rating: 3.25 / 5.0
Showcase your talent to millions!!
Write about topics that interest you - anything from movies to cricket, gadgets to startups.
SUBMIT ARTICLE
More
Telugu Movie Reviews
Peddha Kapu 1
Skanda
Chandramukhi 2
Sapta Sagaralu Dhaati
Changure Bangaru Raja
Mark Antony