A cultural mix
Tuesday, August 25, 2015 • Telugu Comments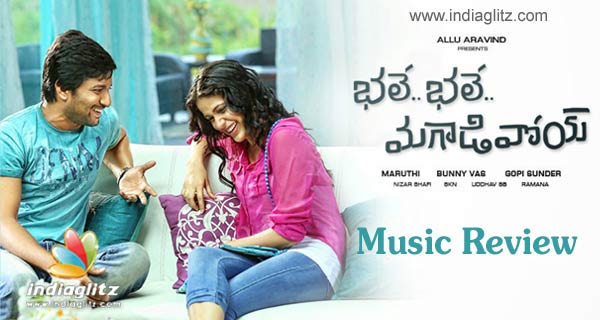 Maruthi conceptualizes interesting numbers here, ably assisted by a creative team of singers and music director. Sachin Warrier, Karthik, Chinmayi, Runeka Arun, Mohana Bhogaraju are apt for the lead pair. Ramajogayya Sastry, Bhaskara Bhatla, and Sri Mani have many creative ideas!
Motta Modatisari
Artist: Sachin Warrier
Lyricist: Ramajogayya Sastry
Gopi Sunder's music for this song is impressively melodious and at the same time, the instrumentation is catchy even at the first instance. Sachin Warrier has a voice that fits well with the urbane and upscale set-up. Ramajogayya Sastry pens meaning-laden lyrics to bring out relatable emotions in a lively fashion.
How How
Artist: Karthik
Lyricist: Bhaskara Bhatla
The forlorn mood and longing of the apparently jilted lover takes a facetious form here. A genre fully explored more by Kollywood than Tollywood, this one makes little creative addition. Bhaskara Bhatla's lyrics are intriguing, knowing his style well. Imagine a tee-wearing hero juxtaposing beer with butter milk and the like! Karthik's vocals are made for Nani, a hero with a specific kind of image.
Hello Hello
Artists: Karthik, Chinmayi
Lyricist: Sri Mani
The way Gopi Sunder raises the pitch, the song invariably brings to memory an AR Rehman song or two. The instrumentation is right there with brilliance all over. Karthik is outshined easily by Chinmayi and Hello Hello is her song, totally. Sri Mani's lyrics are one of his career bests.
Endaro
Artists: Runeka Arun
Lyricist: Ramajogayya Sastry
This one is a musical assault. The classic Endaro mahanubhavulu.. is here used to evoke a totally unlikely mood. Runeka Arun has a rare voice to fit the bill. Ramajogayya Sastry wears his madcap creativity on his sleeve, for once.
Bhale Bhale
Artist: Karthik, Mohana Bhogaraju
Lyricist: Bhaskara Bhatla
For Nani, this one is a bhale bhale mass number indeed. Karthik and Mohana Bhogaraju lose no time in establishing the very mood of the number. The lyricist marshalls his inkling for folkish lyrics. A Telugu-esque song from Gopi Sunder!
Verdict: Maruthi strikes back and how! He picks up an unlikely music director and scores a dekko. An album with mainstream toppings, this one is all the more impressive because of the deadly combination of Nani and Maruthi. Gopi Sunder shows creative spark along with a bevy of singers.
Rating: 3.25/5