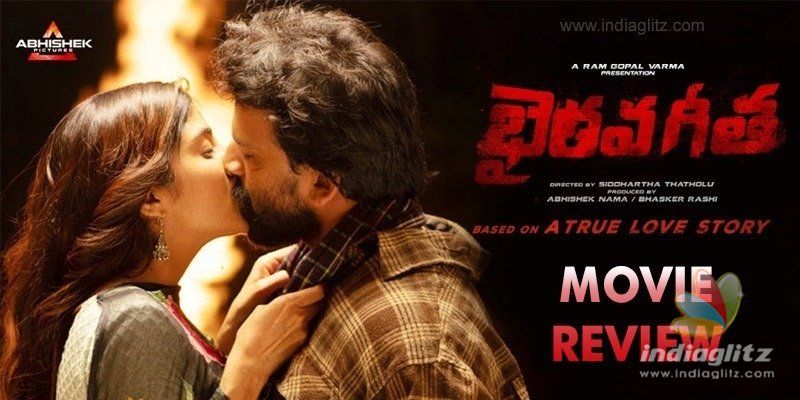 'Bhairava Geetha', starring Dhanunjay and Irra Mor, hit the screens this Friday.  Here is our review of the raw and rustic drama.
Story:
The story is set in the Rayalaseema region and takes place in the early 1990s.  Bhairava (Dhanunjay) is a henchman working for Subba Reddy, a feudal lord, who treats lower caste people as slaves.  
It's time for Reddy's grown-up daughter Geetha (debutante Irra Mor) to return to the village from the city.  The girl values human values over regressive practices and, predictably, falls in love with Bhairava, much against her father's wishes.
An unexpected incident involving the son of a rich man turns the relationship between Geetha and her mercurial father sour.  Geetha realizes that her soulmate is the ever-so-loyal Bhairava.  
What follows is a long showreel of chases, fights, rebellion and some sex in between.  
Analysis:
'Bhairava Geetha' was touted by co-writer Ram Gopal Varma as the story of a class war triggered by a love story.  The trailer too threw enough hints that the film would be on similar lines.  Class battles in various films have been driven by the heroism of idealists (of the R Narayana Murthy variety) and injustices (such as forcible acquisition of the land belonging to poor people), among others.  Ideally speaking, a love story sparking a class battle would have made for an exciting watch, especially because we have been through a number of those mediocre 'Communism is the best' dramas.
What you get in 'Bhairava Geetha', however, is almost a rehash of those ruthlessly outdated, simple-minded films made in the 1990s. Worse still, the cliches are punctuated by RGV-type strangeness (a B-grade erotic song involving Bhairava and Geetha even before the former has figured out why the latter loves him so much, almost as if she has been possessed by a ghost).
The heroine tours the village and she does it invariably with the hero - her unpaid, overzealous, ready-to-dance-like-a-Chanti guide (a stale idea which even the likes of 'Shatamanam Bhavati' have thanklessly tried in recent times).  There is a risk-taking friend (whom we have seen in a number of Tamil films); he goes out of his way to save Bhairava in a critical situation.
There is this mother who eats supper only with her beloved son, no matter how late he turns up at home.  There is this killing which suddenly energizes a whole tribe; out of nowhere, Karl Marx enters their bloodstream and makes them declare that they have nothing to lose except their chains.  The 23-year-old director Siddhartha Thatolu doesn't have the rebels shout 'Lal Salaam' but has them dance singing 'Vande Mataram' for a change (one doesn't understand when and how Karl Marx became a Sanghi to prefer India's National Song over India's discredited slogan 'Lal Salaam').    
Was it love at first sight for the hero?  He surely makes a 'wow she is so gorgeous' expression.  Or, maybe, it's just lust at first sight for him, considering how he hungrily kisses Geetha even when there is every possibility of goons attacking him any time.  
Much screen time is spent to convince the audience that the oppressive characters in the film are oh-so-bloody and/or oh-so-lustful. When there is no titillation, there is gore.  When there is no revolution happening, there is someone or the other talking the language of violence.  When the lead pair is not running away, take it to mean that they are making out somewhere in the jungle.
The one moment that works is the way Geetha falls out with her father after taking on the son of a feudalist.  It comes with some believable writing.  When Geetha decides to walk out, she herself may not be sure whether she is doing it out of immense love for Bhairava or just because he is not bad, unlike her father's chosen groom.  
Dhanunjay shows intensity in some scenes.  Irra Mor could have been made to act in a better way and she shows potential to an extent.  Character artistes put up a decent show.  Ravi Shankar's music is quite inspired.  The cinematography does capture the Seema lands well.
Verdict:
'Bhairava Geetha' comes with stale ideas.  A class war between the oppressed and the oppressor lacks believable writing.  The villains are made to look like self-defeatist souls.  Romance is outrageous.  Enough said.
Rating: 2 / 5.0
Showcase your talent to millions!!
Write about topics that interest you - anything from movies to cricket, gadgets to startups.
SUBMIT ARTICLE
More
Telugu Movie Reviews
Calling Sahasra
Atharva
Animal
Kota Bommali P.S
Aadikeshava
Sound Party