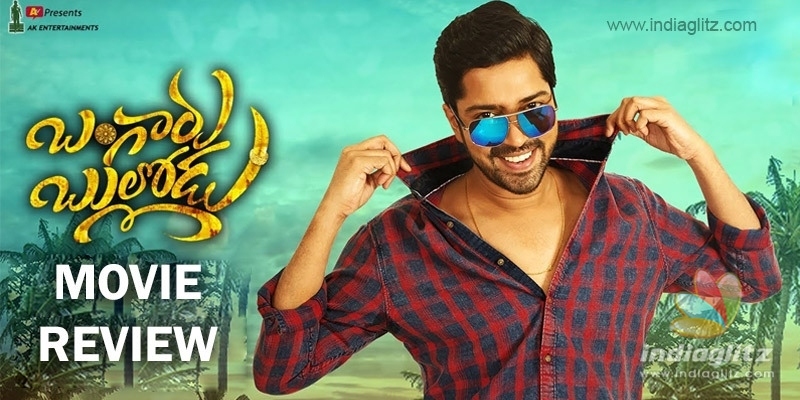 'Bangaru Bullodu' hit the screens today (January 23). Here is our review of the latest comedy entertainer.
Story:
Prasad (Allari Naresh), an employee of a Grameen Bank, is told a stunning secret by his grandfather (Tanikella Bharani), who 26 years ago defrauded the local temple's gold when faced with a pressing situation. Suffering from guilt, the grandfather requests his grandson to undo the crime and win over the grace of the goddess of the temple. Hard-pressed with meagre resources, Prasad resorts to some deceiving tricks with the help of his reliable colleague, played by Praveen. But things are not easy, and he has to confront a loanshark (Posani) and other a few other characters in the village.
Analysis:
For the first 30 minutes or so, you won't find Allari Naresh trying even a semblance of comedy in the film. It's as though director Giri Palika wanted to cast him as a dude in distress like how Vamsi Paidipally did in 'Maharshi'. Only that Naresh doesn't sport a beard in this film, possibly because he wanted to show variation as a dedicated actor. And, then, the director felt that Naresh is so famous for doing 'allari' in the presence of the heroine. Right after the entry of Pooja Jhaveri's character in his life, the Grameen Bank employee turns into a Film City artist and launches himself into a world of naughtiness and mischief.
This film is a festival of dated themes. There is a litigated piece of land. There is a temple that is going into the hands of the endowments department against the wishes of the villagers. There is a 1950s-era robbery in a temple. There is a grandfather who threatens to be on the deathbed forever. There are proverbs like 'Vandha abaddalu aadi aina oka pelli cheyyali'. There is a marriage broker who seems to have bribed Jio and Bharat Matrimony to stay away from the village. There is the deployment of 'pekata' language (because the hero's elder brothers are addicts of 'pekata'). There is a bank manager whose illicit affair with a woman is supposed to be funny.
Amidst all this, the writing department shows flashes of sanity by thinking of remixing a hit song from the early 1990s ('Swathilo Muthyamantha'). Imagine our plight had they not remixed this song and left it for Tarata Ratna to remix it!
Getup Srinu's feminine character was clearly conceived on the basis of his 'Jabardasth' gigs. Nine out of ten times, Tollywood writers mean things like this when they use terms like 'script development' in all seriousness. There is a snake by the name of Anasuya (and not Silk Smitha. Look at the updated knowledge exhibited by our director!), which plays spoilsport so that the hero stands to benefit. Probably because it knows pretty well that he may be a cheater but his heart is 'bangaram'. Just 'Script development' things!
The love story is damnable. Our heroine, who is crazy about America, gets all of a 1-minute-long sermon and immediately turns into a Sharwanand clone from 'Shatamanam Bhavati'. In a film where a dozen characters keep moving in and around just a few square meters through and through, our heroine tells the hero that they have covered all locations in the village to have fun.
Posani Krishna Murali's bizarre style of accepting hens and cows and snakes as collateral also smacks of old-fashioned comedy. Praveen and others are wasted.
Sai Karthik's music is not inspiring, while Satish Muthyala's cinematography is ordinary.
Verdict:
'Bangaru Bullodu' is an old-school comedy film right from start to end.
Rating: 1.75 / 5.0
Showcase your talent to millions!!
Write about topics that interest you - anything from movies to cricket, gadgets to startups.
SUBMIT ARTICLE