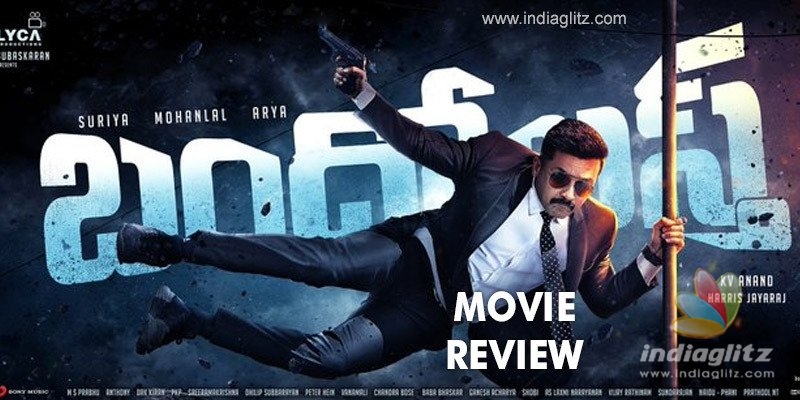 'Bandobast', starring Suriya in the lead, hit the screens this Friday.  Here is our review of the latest box-office release.
Story
Ravi Kishore (Suriya) is part of the Special Protection Group of the Indian Prime Minister Chandrakant Varma (Mohanlal).  Along with Joseph (Samuthirakani), he protects the PM from all sorts of threats.
However, despite his best efforts, a terrible security incident happens.  After this, it's time for the unravelling of a series of incidents that have everything to do with a web of deceit, lies and corporate power.
Abhishek Varma (Arya) plays the PM's son, while Mahadev (Boman Irani) is an industrialist whom the PM apparently respects.  How the various threads are woven together into a political thriller is what 'Bandobast' is all about.  
Analysis
Titled 'Kaappaan' in Tamil, 'Bandobast' is mainly in the mould of a thriller.  Is it a political thriller? Yes, at one level.  But it's more like a spy thriller where secret identities, double agents and secret operations abound.  Writer-director KV Anand makes this universe revolve around political heavyweights.
What is exciting about the film, at least on paper?  There is a Prime Minister, a good one at that.  There is an all-powerful industrialist, who maintains healthy relations with the PM.  There is our hero, who is an organic farmer, a security expert and a cross-pollination exponent all rolled into one.  There is this young son of the PM who can speak casually with even the Ambassador of Pakistan and joke when his father survives an assassination bid!  Frankly, there are enough reasons to believe that these characters and their motivations would give rise to an edge-of-the-seat experience.  
Despite its exciting premise, the film fizzles out, especially in the second half.  The security of India's most powerful man is treated as a joke.  It's as if India is a failed state like Pakistan where anything can happen to the PM.  All hell keeps breaking loose but only one person is trusted to keep things under control: the hero.  
Suriya's character is alluring for the most part.  However, with a substantial story around him, things would have been good.  There are too many cinematic liberties and it becomes too much to take after a point.  We see him talk about natural farming more than take care of the PM's security, which is the sole reason he is there with the country's leader.  
Just to show that farmers are ignored, the director makes the hero a farmer who is invested in Natural Farming methods.  Elements as different as atomic energy, biowar and illegal export of minerals are smuggled into the screenplay but none of them go into making it edgy.  
While it was expected that the second half might take off and move on a racy note, it gets way too routine, with Boman Irani and Chirag Jani making moves that are easily predictable.   
There are numerous logical issues as well, and the behaviour of the characters played by Arya and Sayyeshaa is not that convincing. While the passable first-half gains momentum during the interval block, the second half should have been far less confusing. The movie has it all - a terror element, betrayal from closed ones, personal losses, a mighty protagonist who could take on anyone and destroy evils. However, in the era of technological advancements, the film typically has a 90s treatment.
Suriya looks stunning in the multi-dimensional; his fit physique makes the action sequences believable.  He is as lovable as he can be.  The charming actor displays his emoting skills in key scenes.  Mollywood superstar and Complete Actor Mohanlal is majestic as the PM and delivers a rather subtle performance in a short yet effective role. Arya as the typical happy-go-lucky guy is convincing. Sayyeshaa (of 'Akhil' fame) gets to romance Suriya and be present in several important sequences. Samuthirakani is adequate and his scenes with Suriya are good, while the rest of the cast including Prem and Nagineedu are cast in usual roles. Boman Irani is menacing here and there but he could have been better. Chirag Jani joins the list of yet another Hindi import villain.  
Harris Jayaraj's background score is imaginative at times. MS Prabhu's cinematography captures the rich visuals.  The action episodes are effective.  The visuals are slick and the frames look charming.  Lyca Productions gets the production values right by pooling in the right talent.  
Verdict:
'Bandobast' wants to be a thriller while taking too many cinematic liberties at will.  Had the screenplay been tight, there would have been both thrills and edge-of-the-seat moments.  Production values are rich and efficient.
Rating: 2.75 / 5.0
Showcase your talent to millions!!
Write about topics that interest you - anything from movies to cricket, gadgets to startups.
SUBMIT ARTICLE
More
Telugu Movie Reviews
Ahimsa
Nenu Student Sir
Pareshan
Boo
Mem Famous
Malli Pelli