"Team Work is our strength" - 'Aval' sound designer Vishnu Govind exclusive interview
Tuesday, November 21, 2017 • Tamil Comments

Listen to article
--:-- / --:--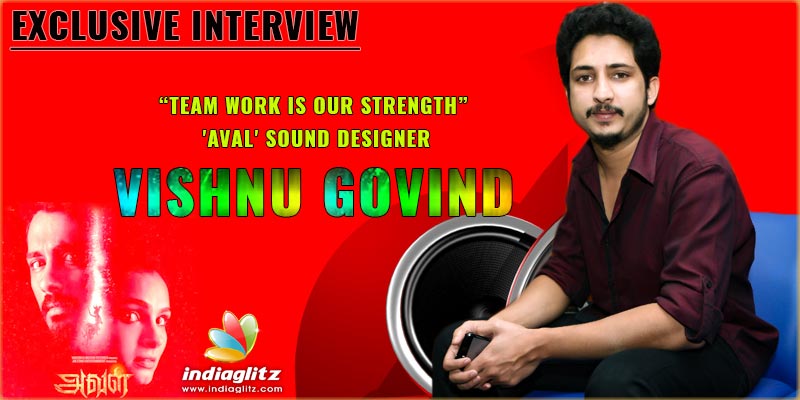 The recently released 'Aval' directed by Milind Rau and starring Siddharth and Andreah in the lead roles has become a huge hit due to its pure horror content and many was terrified by the sounds as much as the visuals. We got in touch with Vishnu Govind of Sound Factor one of the men behind the sound design and here is his Quickfire interview that sheds more light on what the important aspect of audio is.
Tell us about yourself ...
I am basically from Kerala and so is my partner Shankar, who studied with me in college and initially we wanted to become musicians as we are ardent fans of A.R. Rahman. My brother is a film buff and along with him I used to watch many films in Hindi and Tamil apart from Malayalam. We came to Chennai looking for a break in music and studied sound engineering at the Adyar film institute. But it was Karthick Subbaraj who wanted us to do sound design for Pizza` which was well received and changed our career path.
Your previous movies before 'Aval'...
Our Sound Factor company has been associated in about 48 films so far in Tamil and Malayalam and the most popular among them are Neram`, Jigirthanda`, 'Soodhu Kavvum', 'Irudhi Suttru', 'Premam' 'Oppam' and many others.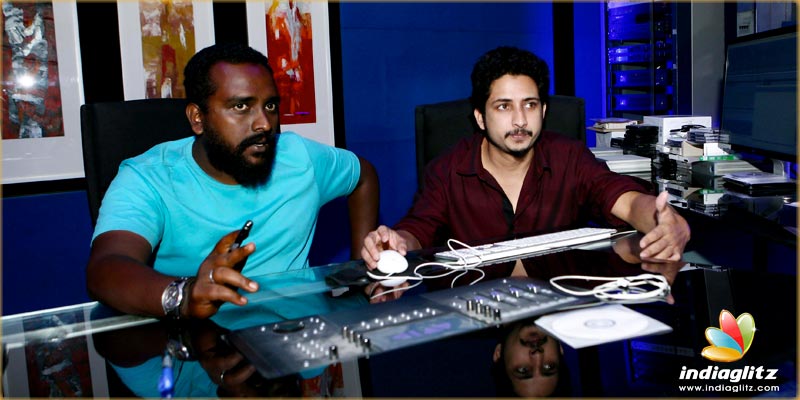 About Sound designing for Aval`...
Usually in western films more than forty people work on sound alone right from recording to creating sound effects which is not the case in Tamil. Its a big trilingual project, and initially there was a pilot sequence that was shot in which we did the sound design and once the project began Siddharth with whom we worked on 'Jigarthanda' brought us on board. Not only me and Shankar but we also combined with another sound designer Vijay Rathnam who has done Hollywood films apart from Anegan` and Kavan` and a mixing engineer A.M. Rahamathullah. More brains combined and more ideas were born as we worked without any ego and that is what has worked big time in Aval`.
In our review, we have placed you above other technicians in the film your thoughts...
Thanks for that and to explain that is called dynamics of sound and usually films have loud sound for dialogues as well as effects. But in Aval` for example, we decided that we won't have high intensity sound in all places and that is how you can hear the sound of the wind as well as parrots screeching in a scene and high decibel sound will be heard only at appropriate places.
The most challenging scene or sequence of 'Aval' for sound...
The Exorcism and the transformation of Siddharth scene, which had a lot of sounds involved and for the guttural screams we used voice blending even using Vijay and my voice. We also recorded pigs squealing, donkeys braying and cats and processed them for about twenty days to convert them into the supernatural. We also kept the music and effects silent in the exorcism scene for a long time and when the girl screams we hit the volume high and that created the impact.
Has Tamil cinema started recognizing the importance of sound?
I think from Pizza` creators started giving importance to sound and now more and more creators are following. People still are not aware of what sound design is and most of them talk about it as background sound and we want to change that .
Your co-ordination with music director..
Music director Girrish is another technician who has no ego and was ready to do anything for the film to come out well. We interacted well and when he used his re-recording to enhance a scene we downplayed and vice versa.
Your upcoming projects...
This year alone around 15 of our films released and so we have cut down on our work and are focussing more on films that need sound design. We are doing Udayanidhi Stalin starrer Nimir` directed by Priyadarshan in Tamil and Pawan Kalyan`s next Telugu movie. We want to try more movies collaborating with others in the future.
Looks like the young brigade like Vishnu Govind in Kollywood are opting more for team work to give the best creatively which is a very positive trend .
Follow us on Google News and stay updated with the latest!
Follow
Actress Photos
Mehreen Pirzada
Sonal Chauhan
Amala Paul
Shobitha Dhulipala