An avant-garde musical tour de force
Monday, November 20, 2017 • Tamil Comments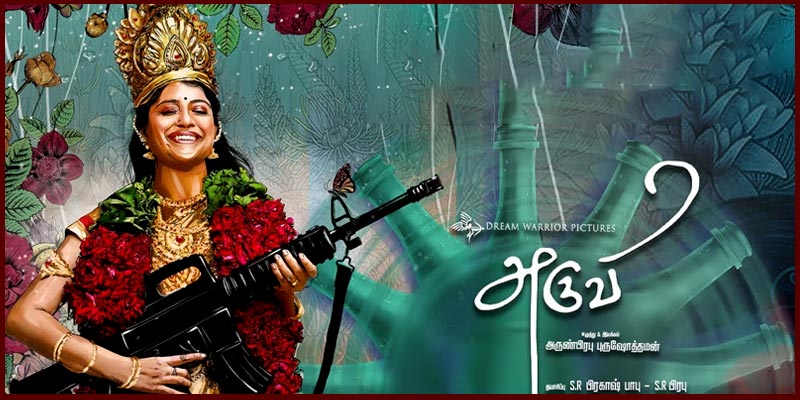 'Aruvi' has become the talk of the town with its piercing stills, teaser and international film festivals whatnot. With the film yet to see a theatrical release, Bindhumalini Narayanaswamy and Vedanth Bharadwaj's album seems offbeat, radical, and innovative. Even though it remains to be seen if the music score complements and completes the film's visuals, 'Aruvi' album singularly aces the litmus test.
Composers: Bindhumalini Narayanaswamy, Vedanth Bharadwaj
Baby Track (Kukkotti Kunaatti)
Voices: Vedanth Bharadwaj, Bindhumalini Narayanaswamy, Praniti
Lyrics: Kutti Revathi
If the beginning ukulele portions doesn't work for you, wait for the child's rhyme which could put a giant troll to a peaceful slumber. 'Innocence' cannot be a musical element (can it?), but the composers have managed to translate just that into musical vibrations. And fortunately we understand it. We are moved. With acapella portions serving as accompaniment, rest assured you will be lulled to peace like a baby in its mother's arms.
Teen Track (Asaindhadum Mayil)
Voices: Bindhumalini Narayanaswamy
Lyricist: Oothakadu Venkata Subbayyar
Starting off with a soulful carnatic rendition, the song melts into a work of instrumental genius. You get the feel of experiencing a carnatic troupe what if only had equipments that are 'Blues'sy. With the support of a quirky vocal, harmonica swings back and forth sweeping you off your musical feet while a sax score leaves you tapping to tunes that unfold like ripples of water. Accordion is a welcome visitor that adds texture to the song's feel. Word, this teensy track is your Monday morning pill!
Voices: Bindhumalini Narayanaswamy, Aditi Balan
Lyrics: Kutti Revathi, Arun Prabu Purushothaman
Liberty song is just about that: liberty from the clutches of 'whatever holds you back'. As much as one would like to comment on the song's jolly personality, for a serious listener it's not hard to miss the underlying tones and lines that add much verve and a soft power to the track. The song flows through a halt to rise up again back to it's original pattern. Lyrics are a major plus for this peppy number. But beware: this seemingly jovial number might end up giving you an unexpected existential crisis.
Party Song (Uchcham Thodu Anbin Kodi)
Voices: Vasu Dixit, Bindhumalini Narayanaswamy
Lyrics: Kutti Revathi
As a pleasant guitar prelude sets you right into the mood of the song, you finally get that Party Song is not what it advertises itself to be. The inflections in the vocals hand the song it's silent strength and versatility. For the lack of an extra instrument for accompaniment or whatever, there are certain parts where the vocals extend themselves into doing a little of that job as well and good grace, don't we just love it! Verdict: Party Song is not for party, but a side dish for the guilt trip you experience after one.
Voices: Vedanth Bharadwaj, Bindhumalini Narayanaswamy
Lyrics: Arun Prabu Purushothaman
Hope is a soulful experience leading you to near bliss. Rhythmic instrumental work makes the song highly listenable. As fluctuating tones fall in perfect marriage with the song's melancholic flavour, the soothing music finds its way into different layers seemlessly. A strong baritone male voice joins the song at short junctures surprisingly doing the mellow song a favour: lending it balance just about before when you fret if the song will become weary and monotonous. This track is addictive and a must in your playist.
Voices: Bindhumalini Narayanaswamy
The initial accompaniment is deliberate as the vocals are free flowing and unabashed. As the female vocals begin to create a pleasing pattern and rthymic ingenuity, you are to be spellbound when a violin solo takes its place. The Aruvi theme glows with vibrant hues of instrument work and adroit vocals that render the theme its unique mood. A major part of the theme's strength comes from string music and we are not complaining either. Aruvi theme, like the film's name is an 'aruvi' of excellent music embroidered by consistent harmony.
Verdict: Stop doing whatever you are and listen to this album. Or you might just miss the next best thing in contemporary film music.