"Am Honored to do a film with Sachin Tendulkar" – A R Rahman
Saturday, April 8, 2017 • Tamil Comments

Listen to article
--:-- / --:--



As Kaatru Veliyidai` has released to full houses all over we got the one and only A.R. Rahman, who gave us a wee bit of time for an audio interview before hurrying for an international flight. The Mozart of Madras has shared many details about his upcoming films, Mani Ratnam, directorial debut and a few jokes. Here is the transcript.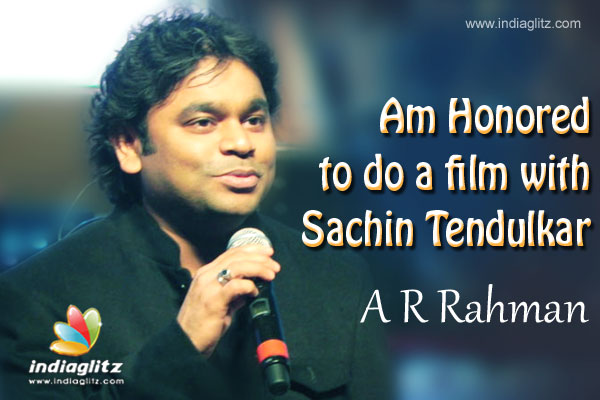 What are your feelings tonight before Kaatru Veliyidai` release and years back on the eve of Roja` release?
"(Laughs) always tired before a film releases but having the satisfaction that I have done my job well I hope for the film to do well."
Any particular quality of your mentor Mani Ratnam you follow?
"In the industry treat you with respect when a couple of films become a hit and those same people will deride you when you give flops (I am talking about my initial ten years). But Mani sir always treated me the same and for what person I am and it is the same for a cameraman or editor or other technician."
He is the one who has let you experiment right?
When we see an artiste for the first time we get the impression that he will reinvent himself and as for Mani Ratnam his visuals, storytelling etc will be so new that even I am forced to give my best for him to match up."
In OK Kanmani` Mani Ratnam has given such a youthful story that challenges younger filmmakers…
"Usually when scoring music for the film my concentration is on how to give my best work and I didn`t notice it at that time. But now after watching the Hindi version of Ok Kanmani`, I noticed what a splendid screenplay, it was and I called Mani sir and told him that."
You are debuting as a director…
"Oh, but that is not for a feature film. I recently found Virtual Reality very interesting and know that there are a lot of possibilities in music in that arena. After putting in a lot of research I am doing this VR film called Le Mask`. We have finished shooting and are currently editing and all I can say now is that it will be a different experience as there will be a combination of effects like a chair moving and also scent. (Laughs) after watching VR I now find 2D films boring."
Now that technology is so advanced how does it affect music?
"Its got nothing to do with technology, but nowadays I am experimenting more, people used to ask me why I didn`t use flute but now I started using them."
Current generation music is highly western influenced…What do you think the future will be?
"Mani Ratnam sir wanted to do Ponniyin Selvan` and if that had happened I would have gone back to the old classical style of music. But that didn`t happen. I did a Chinese film using old instruments and live instruments because there is more scope there while the budget for Tamil films is very less. Shankar`s 2.0` is the highest budget film and I feel the movie should demand what kind of music it needs.
Your journey with Sachin for his biopic…
"(Laughs) I don`t even know how to hold a bat but am honored to do the film in which many unknown aspects of his life are revealed and is one of the most inspiring movies I ever did. I have done three songs for the film and have still not got the feedback from the cricketing legend."
Has anyone approached you to play a role in a film?
"No and am not interested as my mindset is different. Appearing onscreen for myself like Vande Matharam` album is a different story. Furthermore, as Iam getting on in age, I don`t have the patience to sit before a camera and that is why I refuse anybody who approaches me.
About Kaatru Veliyidai`…
"Mani sir has shown the life of an air force officer, which has never been told before and I am fascinated when listening to my songs played with the magnificent atmosphere created in the film.
Your favorite Mani Ratnam film and the ones you hate…
"My favorites are Iruvar`, Roja` and just about all his movies and only Kadal` I found very depressing, but Mani sir immerses himself into every film to make it fascinating like how he has done in Kaatru Veliyidai`
Which film of yours is releasing next?
"I think 2.0` will release this year and I have given four to five songs for the movie.
Follow us on Google News and stay updated with the latest!
Follow
Actress Photos
Mehreen Pirzada
Sonal Chauhan
Amala Paul
Shobitha Dhulipala