"This film will be a blockbuster and we dedicate it to Mahesh Babu's commitment" - AR Murugadoss
Sunday, September 10, 2017 • Tamil Comments
Director AR Murugadoss showered the 'Spyder' hero Mahesh Babu with praises and each and every word of his was from the bottom of his heart. Here are the excerpts of what he spoke at the audio launch event in Chennai.
"Ten years ago I watched Okkadu in Vijayawada. It was three weeks after the film's release. But the family crowd, fans and students celebrated the film like anything. At that time I met him in a studio. I said I am a big fan of him and I wanted to do a film with them. He said we can do. Actually, I was planning to remake Ghajini in Telugu with Mahesh Babu. But it was dubbed in Telugu. Then, while writing the script of 'Thuppakki; I felt I should produce and direct the Telugu remake of the film with Mahesh Babu. But that was also dubbed in Telugu So I missed it twice and decided I should not miss it. I called him and asked whether we can do a straight film in Tamil and Telugu. He accepted and the date was also properly available.
I have never flattered any hero. Today I am not in a position to flatter anyone. I will tell a truth about Mahesh Babu sir. When I agreed for making a bilingual thinking that it will be like shooting one more take for every shot. But within two days I feared I have taken a big job. In all films only close up shots will be taken in two languages. In this film, we have shot even the silent shot twice. I don't know if any other actor would have supported the director with such patience. I am speaking this out of heart, not for a chance to work with him again. After a stage money is jut a paper. A big support for a director has to come from the hero. When the co-artists make mistakes and take multiple takes he has never made that as an issue. He will patiently wait even if they take one hour to complete a shot. We have had a full night shoot for around 80 days. He has never said he had to leave early. After we completed the shot he told me that after editing if I wanted to shoot a few more scenes or shots and required some days,he said he is ready to give the call sheet for ten more days again. The same words were told to me by Aamir Khan sir, when I did 'Ghajini', Thank you so much. I would not have made a bilingual film without your support.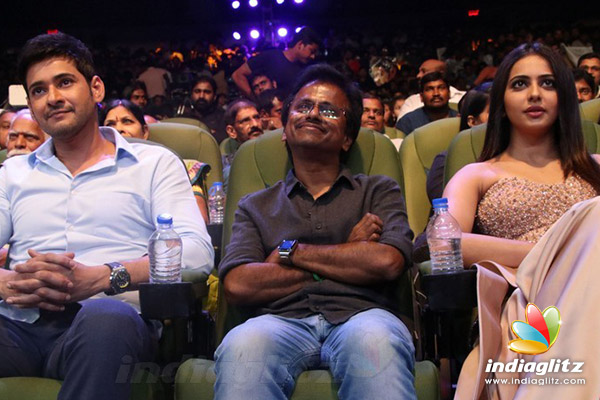 I am assuring you that this film will be a blockbuster hit. This is our crew's dedication to Mahesh Babu sir.
Producer Tagore Madhu sir, I know him since Ghajini days. They never hesitated to spend lavishly. He was eager to spend more and more. They were so enthusiastic like an Assistant director.
Harris Jayaraj sir... I am working for the fourth time with him. He is a music director who has a great knowledge about the screenplay. He is an expert in choosing which song should come where in a film. His BGM was excellent. Just heard his score for the interval block and it is going to be a blast.
SJ Suyrah sir, I called him with hesitation. Because he is now making films as a hero. But he agreed to act in a villain role without a second though. I am sure it will be a treat to watch him in the film.
Peter master, you got National award while working in this film. I am confident that you will get a National award for this film too. I don't want to talk about the action scenes in the film. You can watch it in the trailer that is going to release on 15th of September. Each and every fight scene involved at least 2000 people. He has choreographed each of them with so perfect calculation. He gave importance to the safety of Mahesh Babu sir, as well as each and every stunt artiste. I started working with him in Ghajini and he has been learning from each film. I want to learn that learning habits from him."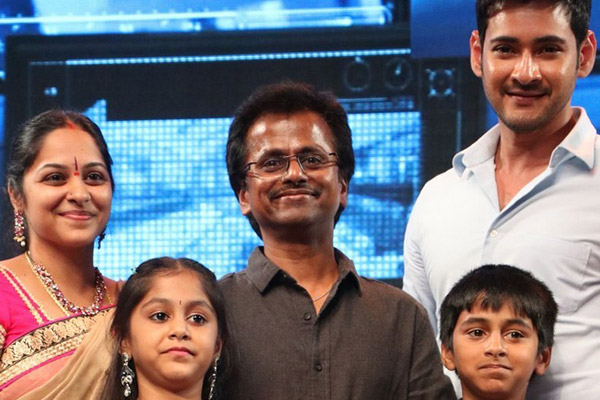 After completing his speech. Murugadoss called his team of assistant directors on the stage and introduced them to the audience. He said he sees the world only through his assistants and praised the contribution for the film.
Meanwhile, during his speech some fans kept shouting slogans and disturbed his speech. The filmmaker was bold enough to stop them asking them to be silent in a strong tone.
Actress Photos
Samantha
Nabha Natesh
Vedhika
Archana