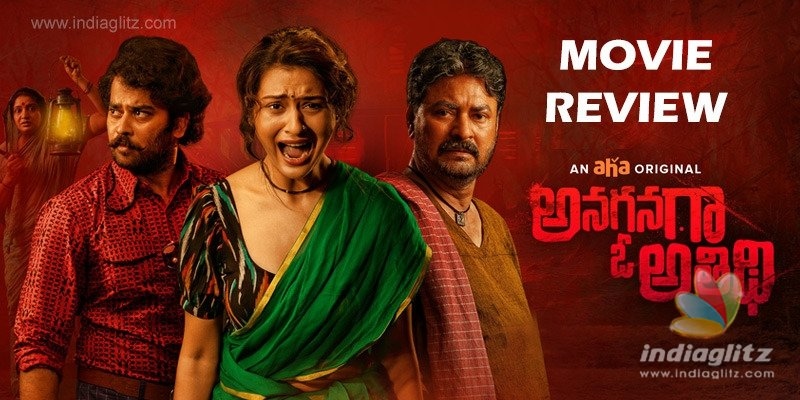 'Anaganaga O Athidhi' is currently streaming on Aha. Here is our review of the web film.
Story:
The story unfolds in a hamlet way back in 1980. Mallika (Payal Rajput) and her parents (Veena Sunder and Ananda Chakrapani) are poor and indebted. Unlike her parents, who seem to have resigned themselves to their fate, Mallika is extremely unhappy about the station of her life.
In comes Sreenu (Chaitanya Krishna), a soft-spoken stranger, knocking on their door for help. They reluctantly let him in. Over a period of a day, they come to know that Sreenu is carrying gold and cash him them. Mallika becomes greedy and wants to steal his wealth. Her avarice leads to a slew of unexpected scenes.
Analysis:
This one is a remake of the Kannada movie 'Aa Karaala Ratri' (2018), which borrowed its plot from a play by the same name. At about 90 minutes,  'Anaganaga O Athidhi' is a suspense thriller that is heavy-duty and laced with a twist.
Director Dayal Padmanabhan imagines Payal Rajput as a femme fatale who is given to vices. The 'RX 100' actress gives a studied performance in the bold role. Full marks to her for accepting a challenging role that pushes the envelope. Chaitanya Krishna is able, while Anand Chakrapani should have avoided the melodrama. Veena Sundar, too, is a bit over-the-top at times. Imagining Tillu Venu as a blind nomad who mouths philosophical lines was juvenile.
Arrol Corelli packs the film with a tension-filled BGM. His work elevates the inner churning that the female protagonist is going through. Rakesh B's camera work fits the rustic milieu of the film. Kalyan Chakravarthi lyrics blend message with drama.
It was not the film's promise to deliver the typical thrills that are associated with crime thrillers. As the opening scene involving a spiritual master suggests, it's about how human vices such as greed and lust can lead to destruction. While the small crowd listens to the sermon with reverence, Payal Rajput's character looks not only skeptical but also deviant. Agonized by economic woes and her drunkard father's ways, she wants to carve her own destiny, even by going on a forbidden path if the need be. While her mother has lost the zest for life, she is not ready to settle for poverty.
Once Chaitanya Krishna's character arrives at Mallika's place introducing himself as a storyteller-cum-cartoonist, the expectation is that the pace of the film will pick. It doesn't but it's not a major demerit. From Payal's constant irritation to why the cartoonist flaunts his wealth in front of his hosts, everything in the story has a reason if you care to invest yourself in the climax.
From a lecherous landlord to a liquor shop where a character comes to know of a shocking truth, the film tries to be brief yet effective in relaying to the audience the world of the key characters.
A complaint is that 'AOA' has a short-filmish feel. There are elements that could have been better. Like the entry of two constables in the thick of night.
Verdict:
As a suspense thriller with a twist, this film works despite some of its misses. Replete with a heavy message and dramatized narration, 'Anaganaga O Athidhi' clicks also as a human drama.
Rating: 2.5 / 5.0
Showcase your talent to millions!!
Write about topics that interest you - anything from movies to cricket, gadgets to startups.
SUBMIT ARTICLE
More
Telugu Movie Reviews
Hunt
Driver Jamuna
ATM
Vaarasudu
Waltair Veerayya
Veera Simha Reddy