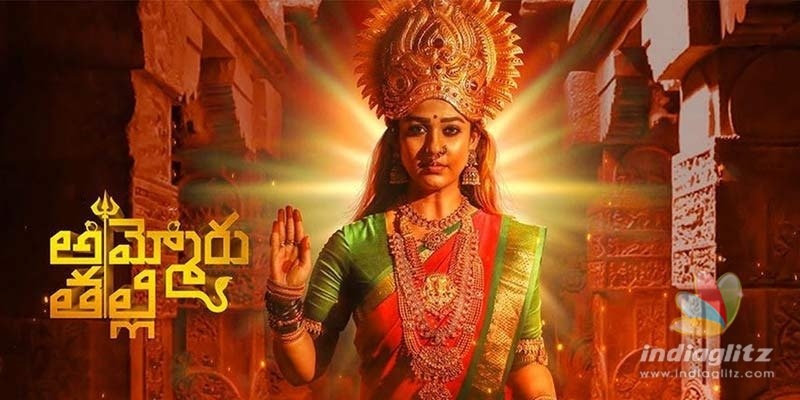 'Ammoru Thalli', starring RJ Balaji, Nayanthara, Urvashi and others, is now streaming on Hotstar. Here is our review of the comedy.
Story:
Engels Ramasamy (RJ Balaji) is a journalist living a not-so-happy life with his three siblings and mother (played by the super-talented Urvashi). They suffer from too many problems and are sorry that the divine hasn't been kind to them.
In a surreal turn of events, Goddess Ammavaaru (Nayanthara) appears before them with a purpose in mind.
Why did the Goddess appear on Earth in flesh and blood? How and why does Engels Ramasamy get into a conflict with a fake godman named Bhagavati Baba? What consequences do these have? Answers to these questions are the crux.
Analysis:
The first half moves at a pretty decent pace with some humorous moments involving Urvashi. Right from the arrival of Nayanthara's divine character, the film picks up pace. After the arrival of Ajay Ghosh's character, the plot starts off.
While a strong conflict between the lead man and Bhagavati Baba was only to be expected, the second half gets too simplistic and cliched. The moves of the good man's side are barely exciting. RJ Balaji ends the movie with a much needed and relevant social message, but the journey towards the message is tiring.
The background score is loud and doesn't help elevate any of the sequences. Cinematography by Dinesh Krishnan is adequate.
Debutant directors RJ Balaji and NJ Saravanan have chosen the interesting theme of God Vs Godman, but beyond low-hanging fruits, they don't live up to expectations. Nayanthara arrives in stunning fashion and entices with her looks and act, but it is after the establishment of the plot point that the movie completely loses fizz and takes a very simplistic route. Since the climax is quite lame, the build-up to the phase doesn't add up.
Besides being predictable, the film also gets too lazy. Many jokes don't land and some of them lack nativity.
RJ Balaji, who was seen in Mahesh Babu's 'SPYder', is at his quirky self in the film. He is fun to watch, but only to an extent. Nayanthara is largely convincing, but a strong directorial vision and writing would have made all the difference. Urvashi, who was recently seen in Suriya's 'Aakaasam Nee Haddhu Ra', is again at her most natural self. Ajay Ghosh as the fake Godman doesn't make much of an impact. The rest of the cast including Moulee, Smruthi Venkat deliver mixed results.
Verdict:
'Ammoru Thalli' has the flavour of a 'Gopala Gopala' and a 'PK' (Hindi). While the comedy works in bits and pieces because of the performances, the story doesn't work at all.
Rating: 2.5 / 5.0
Showcase your talent to millions!!
Write about topics that interest you - anything from movies to cricket, gadgets to startups.
SUBMIT ARTICLE