Ambarish Laud Rukkoji
Tuesday, November 3, 2015 • Tamil Comments

Listen to article
--:-- / --:--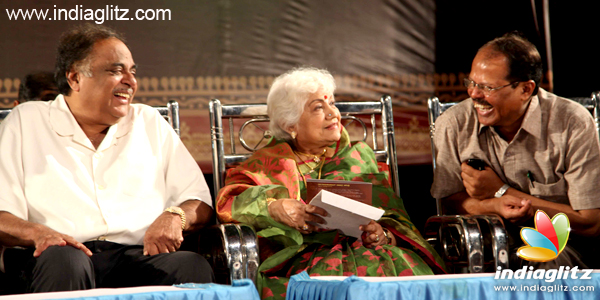 The popular hero with rebel image, sitting Karnataka Housing Minister Dr Ambarish lauded the studious and serious work of veteran journalist Doddahullur Rukkoji in bringing out two volumes of book Dr Rajakumar Samagra Charitre`.
He has made his mother Smt Padma Bai proud like how my mother was proud decades ago when Dr Rajakumar inquired me from the dais. I was at the Lavanya Balaga awards evening sitting with my mother. My innocent mother who got married at early age and not qualified wanted me to salute Dr Rajakumar. Dr Rajakumar was sitting far away. I told my mother he would not notice. But Dr Rajakumar noticed me and said En Ambarish, Channagiddira`. My innocent mother was perplexed. She wanted me to touch the feet of Dr Rajakumar and take blessings.
Dr Ambarish collected this olden day episode once again at Dr Rajakumar Samagra Charitre` book release. He anxiously watched mother of Rukkoji Smt Padma Bai and recollected his mother. I known Rukkoji from early days of his career. He is a very simple person. He has revealed the generations of Smt Parvathamma Rajakumar hail from Mandya. I am very happy for this declaration because I also come from Mandya said Dr Ambarish.
Dr Rajakumar is like Himalaya Parvatha`. He is always precious diamond in the hearts of Kannadigas opined Dr Ambarish for thunderous applaud.
The release of book Dr Rajakumar Samagra Charitre` should be written in golden words felt Dr Ambarish. He also recalled the days of working with Dr Rajakumar in Oda Huttidavaru`.
Follow us on Google News and stay updated with the latest!
Follow
Actress Photos
Manjusha
Anasuya
Chandini Chowdary
Krithi Shetty