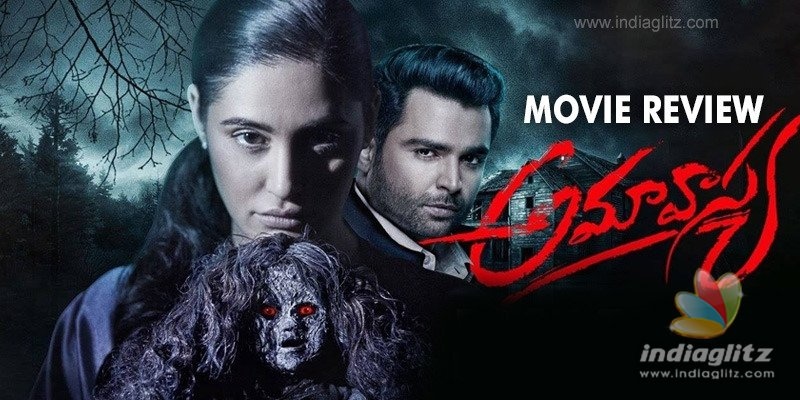 'Amavasya', starring Sachiin Joshi and Nargis Fakhri in lead roles, hit the screens this Friday.  Here is our review of the horror film.
Story:
Karan (Sachiin Joshi) is about to wed Ahaana (Nargis Fakhri) in a few days.  It's time for a summer holiday.  Ahaana insists that they should go to Karan's abandoned house in some part of Europe to enjoy privacy.  The dude gives in reluctantly, knowing full well that the place is haunted.
Once the couple reaches the dark, palatial house, eerie dreams visit them.  They see the body of a woman haunting the house during nights.  After much delay, Karan tells Ahaana that something did happen in his past.
The flashback involves Maya (Navneet Kau Dhillon) and other characters.  Who is Maya?  Where is she now?  Why is the house haunted?  Answers to these questions come in the second half.
Analysis:
When your girlfriend shows high levels of interest in a haunted place ("Paris is so cliched; Let's go to that lonely house", the darling says), you should see the writing on the wall.  She doesn't deserve you.  When your grandmother tells you that a jinxed place that has tragic memories associated with it can be the right location to start a new life (!!!) and convinces you to live in that house with your GF for some romantic days (God!), you know you should renounce everything and resign yourself to Sanyasam.  The world doesn't deserve you.  Karan, however, goes ahead and lives in the troubled house with the full knowledge that it can be deadly.  
Night after night, the terrifying house disturbs the sleep of the boyfriend and the girlfriend, one after the other.  They keep touring the entire bungalow, night after night, either in dreams or otherwise, in search of that elusive ghost.  To its credit, the ghost disturbs either the hero or the heroine, not both at a time.  Every time they walk through the huge building at a rate of two steps per minute, they invariably carry no candle. They know they can't see anything but then God gave them no brain cells.  Apparently, there is an electrical connection in the house but strangely, our lousy couple never switches on a light.  
The heroine mocks anybody who says ghosts do exist but, like those typically boring characters in ghost movies, she wakes up horrified in the middle of the night at the slightest hint of an eerie sound.  Day in and day out, the characters see the ghost either in dreams or otherwise.  Yet, they never discuss even for a moment if they should pack up and leave for India for good.  
Director Bhushan Patel's idea of scaring the audience is so outlandish that it throws up things like a peculiar sound here, a wicked doll there.  If he thought Goti (Ali Asgar as a stereotyped maid) would be comic relief, it's the actually scary thing, not those horror scenes in the movie.  
There is this doctor (Mona Singh) who keeps assuring our migraine-affected, not-even-occasionally-sensible hero to take care of himself, relax, sleep, have fun.  The way she talks to him, you can be forgiven for thinking that she must be his secret girlfriend.  
Scene after sluggish scene, the conversations are so slow that, by the time a scene is over, a person can die, exact her revenge as a ghost, die again, and take a new life.  
The makers have called this movie an action thriller as well.  There are a couple of primitive "action" scenes of the kind seen in TV serials.  If the songs are outrageous, the dialogues are rudimentary.  
The music (including RR) is lifeless.  The cinematography (by Amarjeet Singh) is OK.
The performances are a big turn-off.  There is no way one can feel the fear or tragedy that the proceedings carry in them.
Verdict:
'Amavas' is a painfully slow, elementary horror movie with mediocre performances and a fatally dumb screenplay.
Rating: 1 / 5.0
Showcase your talent to millions!!
Write about topics that interest you - anything from movies to cricket, gadgets to startups.
SUBMIT ARTICLE
More
తెలుగు Movie Reviews
Kabzaa
Phalana Abbayi Phalana Ammayi
CSI Sanatan
Anger Tales
Kranthi
Organic Mama Hybrid Alludu