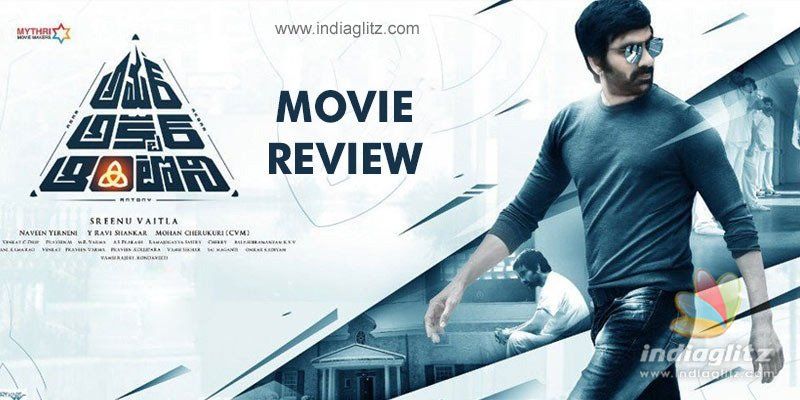 'Amar Akbar Anthony', starring Ravi Teja, hit the screens this Friday.  Here is our review of the Sreenu Vaitla directorial.
Story:
Amar (Ravi Teja) and Pooja (Ileana D'Cruz) were brutally orphaned by the villains (Tarun Arora, Vikramjeet Virk, Aditya Menon & Co) in childhood.  They have been separated by circumstances and the girl had to change her identity.
Amar, who has served a prison term, is out in the town to eliminate one enemy after another.  But here, there is a catch.  He keeps forgetting his identity once in a while.  And to add to his woes, an FBI officer (played by Abhimanyu Singh) is out to nab him.  
The rest of the story is about how Amar, who doubles up as Akbar and Anthony, overcomes his mental condition and takes on the antagonists. In this, he takes the services of a bunch of quirky characters (played by Vennela Kishore, Satya, Sunil and others).
Analysis:
Ironically in a movie whose hero has more than a couple of shades (thanks to a disorder, inspired by Shankar's one and only sensible movie with Vikram), 'Amar Akbar Anthony' has only one shade in several respects.  For example, take the villains.  There is a bunch of them (were they three, four, five or more? Never cared to count them), they seem to talk more or less the same thing scene after scene, with an almost indistinguishable set of lifeless voices, about something that takes eons to happen. That they will be killed by our hero was a foregone conclusion right from the beginning.  Our only prayer was that, at least in the climax, they will not get to open their boring, one-note mouths. Even this prayer was not answered.  
And another one-note thing in the movie must be the recurring, needlessly elaborate flashbacks in which two child artists (the lead pair as children) are invariably and monotonously accursed, thanks to the one-note antagonists discussed above.  (At one point, we concluded that this is more a launchpad for Laya's daughter than Ileana's comeback movie.  The girl has too many scenes).  
By now, a seasoned Telugu cinema viewer should learn that disorders/syndromes and stuff like that are always almost portrayed like a joke by "commercial" directors.  Only the name of the circus changes from film to film.  In one film, it's the Chandoo Mondeti Moronic Circus.  Here, it's the Sreenu Vaitla Vacuous Circus.
Vaitla's idea of portraying disorders is, to put it bluntly, Vaitla-esque.  When our hero becomes a "saibu" (this is how every character refers to the Muslim aspect of the hero), he becomes almost robotic and stiff. But that's not a major complaint.  He seems to possess so many shades only so that he can do something terrible with the comedians.  The villains?  As said before, they wait for eons to be extinguished.  Had Vaitla made 'Ghajini', Suriya surely would have spent more time learning about his disorder from a comedian (Sunil, preferably) than tracing his enemies.
Everybody is so loud and the proceedings so chaotic that it takes Dr. Anthony (Ravi Teja, again) to tell people to just relax and be strong (this is a veiled message to the audience to stay strong until they get to air-dash to their homes).  On their part, the audience never becomes strong and grows weaker in the second half, only to lose trust in Vaitla.  And every time the audience loses trust, Ileana beats them solidly.  You have to watch it to know the inner meaning of this sentence.  
Jayaprakash Reddy, Srinivas Reddy, and Vennela Kishore (his comic deliveries on the rare occasion are a relief) are mere cogs in the Vaitla wheel.  Satya, who parodies the legendary KA Paul, is the film's only bright spot.  
Ravi Teja has delivered comprehensively ridiculous films ('Bengal Tiger', 'Nela Ticket', 'Touch Chesi Chudu' and 'Kick-2') like no other hero.  'Raja The Great' was only half-decent and we went crazy over it.  To expect anything remotely funny from him is to live in a fool's paradise.  At least five films in a row have proved that has lost his comic timing, once his forte.  Ileana is OK, Abhimanyu Singh is forgettable, Sayaji Shinde is a bore and others are utterly wasted.  
Thaman's song 'Kalala Kadhala' is good and the BGM is loud.  Venkat C Dileep's cinematography is mediocre.  It's remarkable that Vaitla couldn't make the most of Mythri Movie Makers' lavish production values.  
Verdict:
'Amar Akbar Anthony' loses its plot quite early on.  Predictable.  Has a monotonous feel.  Is filled with needlessly elaborate flashbacks.  Strictly half-baked performances.
Rating: 2.25 / 5.0
Showcase your talent to millions!!
Write about topics that interest you - anything from movies to cricket, gadgets to startups.
SUBMIT ARTICLE
More
Telugu Movie Reviews
Gurtundha Seetakalam
Mukha Chitram
Panchathantram
Monster
HIT 2 (The Second Case)
Repeat