A DSP Musical
Tuesday, January 12, 2021 • Telugu Comments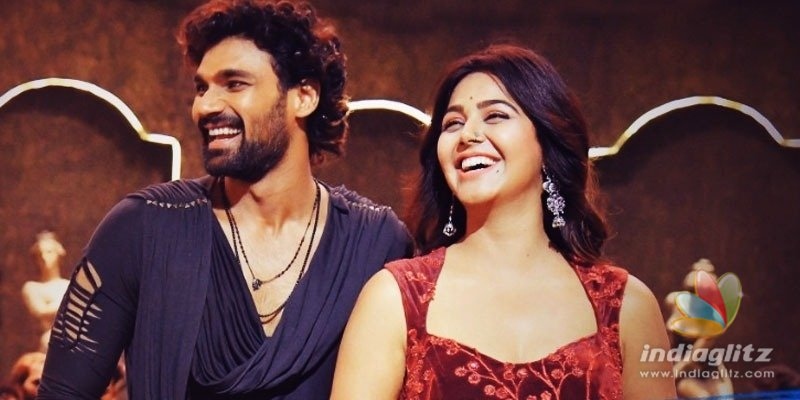 The first single from 'Alludu Adhurs' is out, on Aditya Music. Here is our review of the song. The other ones will be reviewed as and when they are out.
Hola Chica
Singer: Jaspreet Jasz
Lyricist: Sreemani
In all probability, it was Devi Sri Prasad who came up with the idea of borrowing the phrase 'hola chica' for the song. This is full-on 2000s DSP, with his signature style writ all over the peppy song. The backdrop, much like the song, is quite a rehash. Sreemani's lyrics are not only creative but also have a repeat value. Jaspreet Jasz's booming voice is as enjoyable as Nakash Aziz's. Ranina Reddy's voice is heard for a brief.
Alludu Adhurs Title Track
Singers: Jaspreet Jasz, Vaishnavi
Lyricist: Ramajogayya Sastry
This is the kind of song that is has been a ritual in masala flicks. The lyrics, penned by Sastry, have the heroine sing paeans for her father's awesome 'alludu'. In the process, she liberally uses all sorts of panegyrics. Jaspreet Jasz's familiar voice is exhilarating, powered by a vintage Devi Sri Prasad. Vaishnavi is good. All in all, the song is music-heavy and lyrics-heavy.
Nadhila Nadhila
Singers: Sagar, Haripriya
Lyricist: Sreemani
The romantic duet is set in the backdrop of a snow-capped region and therefore, lyricist Sreemani sprinkles it with some sexy lines. There are also references to the Cupid that winter is notorious for. Sagar's voice brings to memory some of the best DSP duets. Haripriya's mellifluous voice is worthy of a mention. The composer deploys the keyboard to a lilting effect.
Ramba Ooravasi Menaka
Singers: Mangli, Hema Chandra
Lyricist: Sreemani
Sreemani's lyrics are in the old-fashioned tradition of Bhaskarabhatla's 'item' songs. There is a reference to colloquial terms like 'kasak' and also some of the biggest soft-porn actresses of the bygone era. Even eatables like Sonpapidi are not left behind. Mangli's voice is enjoyable, with her high-pitched vocals taking care of impact. Hema Chandra complements her voice. DSP gets to serenade with his favourite genre of music. It's a peppy number, overall!