"I used to commute in local transport in Mumbai"- Akshara Haasan
Thursday, July 27, 2017 • Tamil Comments

Listen to article
--:-- / --:--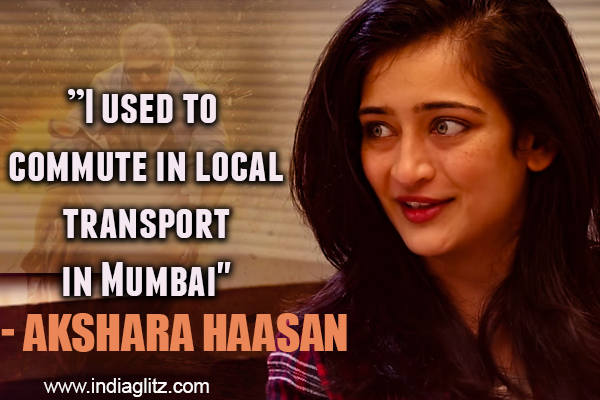 Akshara Haasan, the younger daughter of Kamal Haasan will be stepping into Kollywood as an actress playing an important role with Thala Ajith and Kajal Aggarwal in the most anticipated flick 'Vivegam'. She is also working as an Assistant director to her father in 'Sabaash Naidu'.
Both acting and direction are not new to this star kid as she has already worked as an AD in a few Hindi films and acted as the female lead in 'Shamitabh' and 'Laali Ki Shaadi Mein Laddoo Deewaana'.
Akshara is now keeping her fingers crossed as 'Vivegam' is all set to hit the screens within a few weeks from now. IndiaGlitz caught up for the latest edition of Red Carpet interview with this charming and talented star kid and here is the excerpts of what she spoke to us.
Tell us something about your real big break in a Tamil movie as an actress with 'Vivegam'?
First of all I am very honoured to be part of such a prestigious film that too with Ajith sir. And first film so big...!. I am truly happy and excited for this film to come. I hope people appreciate it and I am super excited
How was it to work with Ajith?
It was a wonderful experience. He is a thorough gentleman. A kind person, warm person and very respectful person. He respects, even people who are younger than him. which is very rare quality to see these days. His was some other kind of respect. To be able to work with him was truly a joy because he is very helpful, understanding and patient as an actor. Which is very important to have in any field, especially for an actor. Because sometimes we get stuck on dialogues. It takes multiple takes to get it right. Sometimes it will go up to 25 takes and sometimes even 60 takes.
How did Vivegam offer came to you?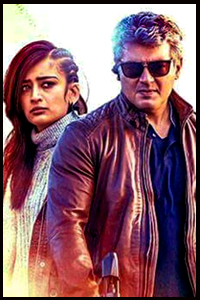 I'd slowly started telling people that I would love to come back home and do Tamil films. Siva sir came to know about that. Within half an hour of hearing the story, I said "yes". After he finished telling me the story and my character I really liked it so much and I said "Okay done".
What is the name of your character?
It is difficult to say the character's name right now. She is born and brought up abroad.
How pivotal is your character in 'Vivegam' on par with Ajith's?
It is a pivotal character and it goes parallel Ajith sir's character. It helps the story go forward. I am so happy with the role. I am so glad I got this kind of role. It was very challening and different. I got to cover a different kind of performance. Thanks to diretctor Siva, I could experience different kind of emotions. It is the unconventional kind of a role.
Your character in the film has any negative shades?
Maybe or maybe not.
Tell us about your career as an AD
Till became an actor, nobody knew who I was. Nobody knew I who are my parents. I am so happy about that. If people knew who I was I would not have able to experience the grind that an assistant director goes through. I could actually understand how behind the scenes work, how it is to be a technician. It taught me a lot, at least now when I act. I know how to respond to camera, how to emote, how much to move, how much not to move.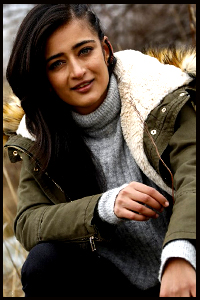 One of the first job I did was being the clapper girl. And the first time I got stuck. I was supposed to say 'scene 1, take 1 by 1'. That wasn't even coming out of my mouth. and one of my co-ADs helped me and said it loudly.
I used to use local transport to the shooting sets in Mumbai. I was staying in Bandhara we used to go to Andheri, Lokhanwala we use to go to Film City as well. I found it easy to go in Mumbai local or rickshaws. Even my parents let me go through it because it is important to go through that phase of life to understand that. These kind of stuffs actually grounded me a lot more and made me value what I have a lot more.
How was it working as an AD to your father?
O boy! that was truly magical. I got to see from an AD's perspective of how he works, why he does certain things a certain way. I learnt a lot certain small things to big things of how they actually work and what makes his films the way it is
Are you doing any small role or a cameo in Sabaash Naidu?
No.Nothing.
Lot of star kids get fantastic launches. Why din't your father or mother give you a big launch as an actress in Tamil or Hindi?
For me in the beginning I din't want to use that and I need to get it myself. If I deserved it, I wanted to work hard and get it because it means a lot more. It is easy to go home and ask to help me and. But I was an AD. It's an AD feel that came out saying 'I need to get it myself, I can do it; believe in myself very much so why not?'
How do you vibe with your sister Shruti Haasan?
Like any other siblings. Like two sisters who sometimes fight, sometimes laugh, sometimes play pranks on each other and sometimes team up and play pranks on others around. It's like a regular sister-sister equation. We discuss movies, we discuss songs etc. There is a middle path where we like certain kind of music and there are two extremes where she likes metallic and I like hip hop.
Do you watch the Big Boss show hosted by your father?
Yes I do. I really enjoy watching it especially when my father is hosting it. I think he is very apt as a host and very calm, composed. Apart from being calm and composed he pulls the audience, you feel like listening to him. You actually forget the world and listen to him. He is a perfect host. It's a true joy watching him.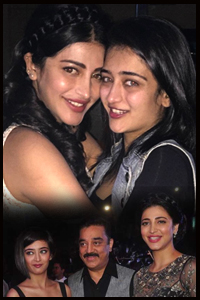 Have you visited the Big Boss house?
Yes I did visit the Big Boss House set once. In the whole process of me being an Assistant director I've actually no visited a set of a TV show, fiction, non-fiction or reality. It is very interesting to see how the process works in Big Boss. When the father was on the stage on shoot, I was standing behind and trying to understand how it works.
What's your opinion about your dad's presence in social media and his thoughts on politics?
I respect whatever he says. End of the day we are grown up individuals. If we don't respect each other's thoughts and values then I don't think that is the right way to go. I've been brought up in a way where my parents have respected our decisions, views, thoughts and opinions. So those are his thoughts, those are his opinions and I respect them.
Looking ahead for a great career here. Fingers crossed for Vivegam.
Follow us on Google News and stay updated with the latest!
Follow
Actress Photos
Mehreen Pirzada
Sonal Chauhan
Amala Paul
Shobitha Dhulipala