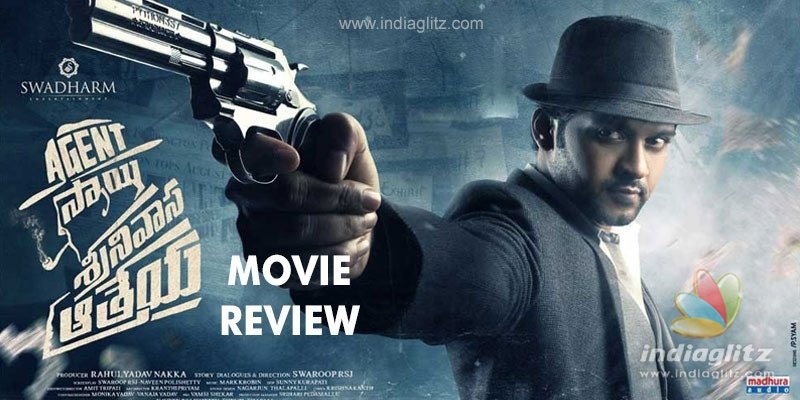 'Agent Sai Srinivas Atreya', a detective comedy, hit the screens this Friday.  Here is our review of this movie that has Naveen Polishetty as the lead.  
Story:
Sai Srinivas Atreya (Naveen Polishetty) is a small-time detective who is more sharp-witted than everybody else.  He and his employee Sneha (debutante Shruti Sharma) set out to investigate the murder of a young woman and pursue two men and a woman.  
Much to Atreya's shock, the two men get brutally murdered.  Atreya becomes the prime suspect and is sought by an unscrupulous, high-handed cop.
This is when the detective realizes that he has been trapped.  Who is behind putting him in the midst of an unlikely racket that is a complex web involving deceit and unclaimed dead bodies?  Answers to these questions are found in the second half.
Analysis:
The teaser and the trailer of the film had projected Atreya as a funny detective who may well be dumb.  On the contrary, he turns out to be way too smart, connecting the dots in a jiffy.  
The first half is quite entertaining, introducing the audience to Atreya's many quirks (he identifies himself with onscreen detectives, imitates the ways of detectives in Hollywood movies, thinks a detective should never have a personal life, etc).  The tone and tenor of the film are consistently fixated with portraying him as an intelligent joker.  Once he meets a wailing father in jail, the mood shifts and gradually, the film goes on to take the form of a true-blue thriller.
Naveen (who is also the film's co-writer) brings to table his measured comic timing and sentimentality; he looks both innocent and vulnerable, but is also convincing when he turns into a Sherlock Holmes.  As such, the first half passes the grade, helped immensely also by director Swaroop RSJ's witty dialogue, Mark K Robin's BGM and the fine cinematography.  The new actress, Suhas, and others (Masala Sandeep in a cameo) add value.  
A few issues crop up in the second half, though.  The scene wherein Atreya says that the starting point of the puzzle can be traced to a dead body should have been dished out at least 5 minutes earlier.  That would have spared the audience of some confusing detailing.  Also, it would have fast-forwarded the screenplay to the actual scandal that the story is about.
Here and there, monotony sets in.  To avoid it, a comedian should have been involved and no, Suhas' character comes too late and delivers too little.  The writing department seems to have avoided a love story between Atreya and Sneha to avert cliches.  But a love story would definitely have added a layer to the story.
The director should have built unique sensibilities around the many dead bodies shown in the film.  There is no shock value in the way things are narrated.  Atreya breaks down when he learns something shocking about his mother.  This is a point where the film almost plays a gamble.  Because this is the point where we start seeing the drama as taking part in a separate world.  When you are dealing with a supposedly large-scale racket, it has to be relatable to the audience.  Or, at least, make the audience believe that it happens every day and it could happen to them as well.  Take Vishal's 'Abhimanyudu', for example.  Even those who are not aware of how smartphone users are being scammed would tremble watching the way the screenplay unfolds.  That effect is missing in 'Agent'.
Also, it's ethically wrong to blame believers for the misdeeds of an organized racket.  All kinds of wrong things happen in all kinds of places.  A religious belief has to be critiqued solely on the basis of its content, not on the basis of what criminals do as exploiters.  
This is not to say that 'Agent' is grossly inadequate.  'Agent' is surely one of the best-written and executed films of the year.  The last 30 minutes are thrilling and the way the beliefs of innocent people are preyed upon by organized criminals does evoke a sense of shock to an extent.  But only to an extent.  
Verdict:
'Agent Sai Srinivas Atreya' dishes out light-veined scenes and serious moments in equal measure.  Only that the second half could have been much more effective, dramatic and crisp.  Fine performances and a very good job from a debutant director who has never worked under any director, are its big assets.
Rating: 2.75 / 5.0
Showcase your talent to millions!!
Write about topics that interest you - anything from movies to cricket, gadgets to startups.
SUBMIT ARTICLE
More
Telugu Movie Reviews
Kota Bommali P.S
Aadikeshava
Sound Party
The Trail
Spark
Sapta Sagaralu Dhaati (Side B)