Bharathiyar was the first Hip hop Star - Rapper ADK
Thursday, May 12, 2016 • Tamil Comments

Listen to article
--:-- / --:--




We caught up with Aryan Dinesh Kanakarathnam better known as ADK the rapper who is making waves in the Hip hop scene, singing for A.R. Rahman in Kadal`, Lingaa`, OK Kanmani` and now Achcham Enbadhu Madamaiyada`. The simple yet charismatic entertainer speaks in detail about the origin of hip hop culture, which is the real rap song, Rahman the human being, rockstar attitudes of Rajini and Ajith and much more.
In a very short span of your career you got the chance to work with A.R. Rahman in Kadal`, did you approach the legend or he called you after seeing your work?
I won`t say that I am a devotee of ARR or a crazy fan of his but I adore him for his amazing talent, style,spirituality and humility. I listened to his Kadhalan` songs and from that time I started getting deeply involved in his music and I always dreamt of one day meet this gem of a person and work with him. I never shared this dream with anyone fearing ridicule, but one day in 2010 I got the opportunity to meet and speak to him. One good day while having lunch with my friends I got a call from his engineer Krishna Chethan whose brother Praveen is a good friend of mine when I used to live in Singapore. He just asked me to pack my bags and start to Chennai as Rahman sir wanted me and I froze unable to move. Later in Chennai I asked ARR`s other sound engineer Saravana Perumal how sir chose me and he said that when the team searched the internet for a Tamil rapper my name came up and Rahman sir after listening to my Kuruvi` song remembered me meeting him and chose me.
Working with Rahman sir, is a dream come true for many, what went through your mind when you saw him in person?
Any celebrity when we meet them for the first time it will be very exciting and just to show off our closeness to them to others, we will all try to put on a show but after sometime it will diminish. But with A.R. Rahman sir, even if you are with him and leave the room for a few minutes and come back the positive vibes will be there and he always never treats us like just an artiste, but gives a lot of respect and what is more he is of the opinion that we beautify his song and that is why every time I see him I feel an unexplainable happiness. I have seen many people including myself who cannot take their eyes off him and keep staring at him unmindful of what he or the others will think. That is the charisma of the legend.
Apart from his professionalism what do you admire in him as a human being?
When doing a song in Achcham Enbadhu Madamaiyada` recently, I used some rude words like poda` and vaada` with the view of showing some arrogance. Rahman sir came near and appreciated me and then slowly without hurting me he suggested changes to those words but when I insisted they match the rhythm he told me very diplomatically that certain words will cause bad vibes and it is better to always use nice words in songs. One more striking quality about him is his simple lifestyle which he does not follow to impress others but it comes naturally to him.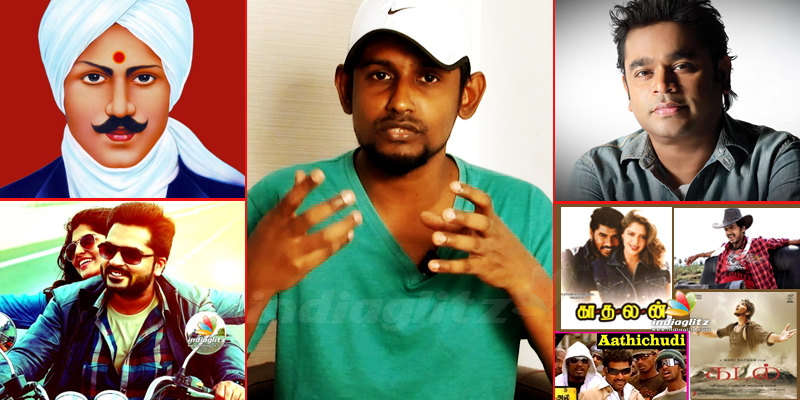 How much freedom does he give you?
To a certain degree, yes, but not to the extent of going off track. He is a person who knows how to extract the best work from his artistes and guide us to give our best for him. He gives me the feeling of being me when I work with him.
How did you become interested in rap?
Rap is the kind of music with which one can express things that you cannot express in any other way. From my childhood I used to listen to International rappers but I could not relate their content with my lifestyle but Yogi B Nakshatra released in 2005 and the raps in Tamil inspired me and even before that Suresh Peters in 1994 had sung "Pettai rap" with Rahman sir.
At what age did you begin rapping?
I am quite old now and I think I started when I was 25. The thing that makes me happy is that I am not a born rapper, but I learned the art and now my work is satisfactory.
Your experience working with Vijay Antony for "Aathichuvadi"
I had sung the song under the album Tamizha` which was released in Hollywood and when I got the chance to work with Vijay Antony he like the song and said we will collaborate and completely changed the song which contained most of my lyrics and it came out well and had a tremendous reach which was my first entry into Tamil cinema, a dream come true for a Sri Lankan Tamilian like me.
People have the feeling that rap songs are just words randomly coming out of the singer`s mouth. Is it that easy?
Whatever we want to do truthfully and perfectly in life that will not happen easily. Just like how a driver will only know the difficulties of his profession the same holds true for a rapper. People are of the opinion that rap songs are just cover for a space in a song while others believe that it is just random words. Rap is a method through which one can express his/her inner feelings and it gives much value to lyrics. For example in Kadal` I wrote the content "Vidai koduthida vazhigalai amaipavan vidhigalai maatrida varangalai padai….and so on is rich with lyrical beauty and every aspiring rapper should keep in mind. I request everyone not to take rappers lightly and realize that it is an important art form.
Hip hop is now becoming very popular…
Hip hop is culture based and it is a way of life for example the people wear lose hanging pants, say yo yo and wear huge chains on their necks. But you can see that I am wearing simple clothes and have no ornaments. Actually the African-Americans had gone through a lot of pain from the time of slavery and racial discrimination and to express themselves they used rap and the hip hop culture came into being because they could not afford clothes that fit their sizes and had to make use of second hand clothes that were either small or too big. Rare times when they get money they like to be flashy and that is how they invested in trinkets and jewelry. Now over a period of time it has become a cult. It is very important that we flash our culture to the outside world and not copy them. Hip hop is rebellion and I feel that in the past Bharathiyar expressed himself through poems the caste discrimination and he used to wear unique clothes and at that time there was no name for it but now it is hip hop.
You have said that Ajith sir is the next Superstar…
I like Rajini sir a lot and I love his attitude, though people called it style I feel he is a person who
Follow us on Google News and stay updated with the latest!
Follow
Actress Photos
Siya Gowtham
Rashi Khanna
Dhanshika
Chandini Chowdary