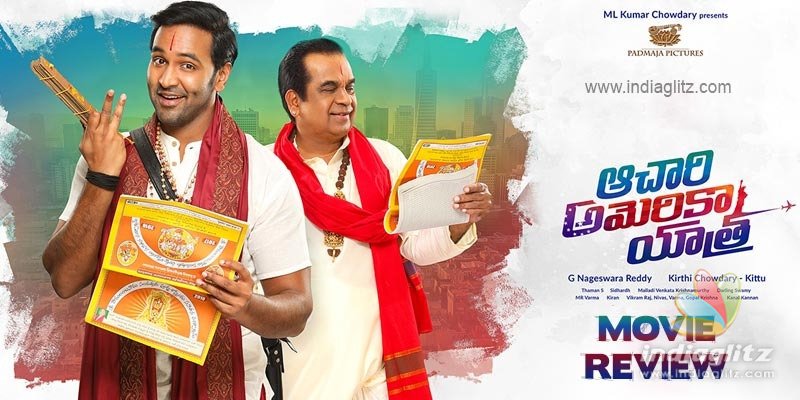 'Achari America Yatra', starring Manchu Vishnu, Pragya Jaiswal and Brahmanandam in key roles, hit the screens this Friday.  Here is our review of the comedy caper.
Story:
Krishnamachari (Manchu Vishnu), Brahmanandam, Prabhas Sreenu and Praveen are a group of 'achaaris' who make a living by performing homams, etc.  
During their stay at the household of a rich family headed by an old man (played by Kota Srinivas Rao), certain unforeseen incidents take place.  The old man dies during a homam.  By a quirk of fate, the four achaaris are blamed for his untimely death.  They run for their lives.  
Upon Krishnamachari convincing the other three that they can be safe only in America, the four men air-dash to that country.  They end up at the house of a ruthless man (played by Thakur Anup Singh), who turns out to be the relative of the ones wanting to kill them in India.  This man is going to get married to Renuka (Pragya Jaiswal), whom our hero first knew while he was at Kota's house.  
What is on Krishnamachari's mind?  Will he and his fellow achaaris be able to save their skin?  That's the rest of the film for you.
Analysis:
What is a G Nagehswara Reddy film without illogical scenes?  So, you have a character who flies all the way to the US because, no matter how much he tries, he just can't reach his son or others via phone because of a small-scale, imbecilic conspiracy pulled off by the hero and his sidekicks.  Left with no unblocked phone numbers (!), this character takes recourse to airways.  Such intelligence!
The director would have done well to choose this title for the movie: 'Asthikala America Yatra'.  The mortal remains (ashes) of a key character are to be saved and this is when our hero hatches ploys that border on the ridiculous.  As if he is sentimentally attached to it, the hero uses 'Puli Hora' (of all things in the world!) and the plan goes haywire.  Such intelligence!
When Brahmanandam shouts, 'Ivi asthikalu anukuntunnara, janthikalu anukuntunnara?' the one character to whom they matter the most actually giggles as if the 'asthikalu' have as much sentimental value to her as Domino's PIzza!  Having to watch such childish moments are a mortal fear.  
The film has not one but two flashbacks.  Two outdated flashbacks.  Two frighteningly outdated flashbacks.  Having watched the first one in the first half, we dread at the prospect of watching Kota dish out dollops of sentimentality in the second edition.  The grandpa-granddaughter (Kota-Pragya Jaiswal duo) sentiment is so half-baked that, after a point, the heroine starts to look like someone who is least interested in the fate of her beloved 'Thathayya'.
In one of those scenes where our heroine sheds her bathroom towel by mistake and goes nude, our hero accidentally catches a glimpse of her.  When he goes to tell her that he saw her secretly, it's not clear what he is.  Is he a child-like fellow?  Or is he a typical Telugu cinema hero out to disturb the heroine's peace?  Very soon, however, his noble heart and good nature impress her.  Just wow.  
The old bachelor Brahmanandam falls for Surekha Vani and another comedienne to no avail.  Prudhvi manages to extract a few laughs with his penchant to share the funny story of his late grandpa.  It would have been great had the other grandpa's story been told with such a comic touch.
Vishnu Manchu passes muster in a role that demands some comic timing from him.  Pragya Jaiswal would do well to choose better roles.  Brahmanandam is getting routine for sure.  His act has shades of what we saw in some of his 'achaari' roles (with the exception of his 'Adurs' performance).  Pradeep Rawat and Thakur Anup Singh are just OK.  Prabhas Sreenu, Praveen, Posani, and others are forgettable.
Thaman's music works to an extent, with 'Swamy Ra Ra' sounding well.  The BGM doesn't make an impact.  Other departments are sub-par.
Verdict:
With too many loose ends and an ill-designed climax, 'Achari America Yatra' smacks of oldish ideas.  The grandpa-granddaughter sentimentality tests patience.
Rating: 1.5 / 5.0
Showcase your talent to millions!!
Write about topics that interest you - anything from movies to cricket, gadgets to startups.
SUBMIT ARTICLE
More
Telugu Movie Reviews
Peddha Kapu 1
Skanda
Chandramukhi 2
Sapta Sagaralu Dhaati
Changure Bangaru Raja
Mark Antony