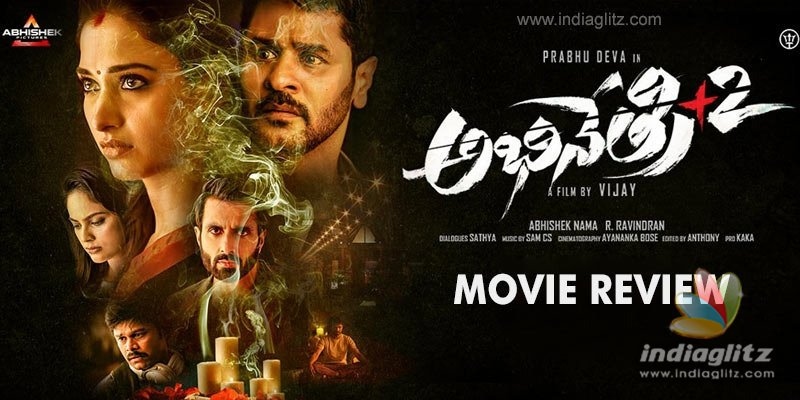 'Abhinetri-2', starring Prabhu Deva, Tamannaah, Nandita Swetha and others, hit the screens this Friday.  Here is our review of the horror-comedy.
Story:
Krishna (Prabhu Deva) moves to Mauritius with his wife Devi (Tamannaah Bhatia).  They live in a palatial house that they think can never be haunted by the ghost Ruby (from the first part, 'Abhinetri').  
Once they settle down in the house, Devi starts witnessing the weird behaviour of her husband.  Krishna apparently pesters two women (Nandita Swetha and Dimple Hayati) to love him.  Devi is heartbroken, believing that her husband is a womanizer.  
Obviously, there is more to Krishna's behaviour than what meets the eye.  What is it?  Who are the ghosts allegedly possessing Krishna?  Why are they after him?  How do Devi and her friend (played by Kovai Sarala) plan to save themselves and Krishna from the danger?  Answers to these questions are found in the second half.
Analysis:
One of the persistent problems of 'Abhinetri-2' is that it has too few characters.  The entire first half rests on the acting chops and reactions of Prabhu Deva, Tamannaah and Kovai Sarala, with Nandita and Dimple making an occasional, half-hearted entry.  Take the airport episode, for example.  This one would have been hilarious had director AL Vijay deftly involved a male comedian as Tamannaah's sidekick.  What is a horror-comedy without some or the other comedian telling the audience how petrified he is?  
The second half too suffers from this anomaly for a good part.  It takes Saptagiri to land in Mauritius to add some spice (too little, too late) to the proceedings.  Not that he has us in splits, but at least you start believing that the director is not as merciless as we thought while watching the first half.  
The way the villains are treated is so drab that they scare the audience more than the actual ghosts - Ranga Reddy and Alex.  
There is no clever build-up of tempo.  Nandita Swetha plays a key character but she makes a sudden entry in a song that seems to be an excuse to show off Prabhu Deva's dancing skills.  Kovai Sarala, who has never bored us in the 'Kanchana' movies, is reduced to a one-note comedienne in this one.  After a point, neither Tamannaah's fear nor pain moves us.  This is bizarre, considering that her misery should have been the film's biggest emotional anchor.  
Prabhu Deva's acting should have been versatile to pull off the shades of Ranga Reddy, Alex and Krishna. But there is hardly any wow factor involved.  The perfect co-ordination between the two ghosts looks unreal.  
The director resorts to parodies of 'Arjun Reddy', 'Khushi' and 'Naa Peru Surya' and the episode is so confusing that the audience doesn't even see any need to smile.  
The prequel had some good dance moves, entertaining songs, however for such a talented music director like CS Sam, there is nothing to offer here. The visual effects are below par.  Sonu Sood comes in the last few minutes. The parallel screenplay for Nandita Das and Dimple is too chaotic to fit in as well.
Devi 2 is not a total loss, there are some moments that shine and strikes up some laughter. The conversations between the husband-wife duo are at least half-decent here and there.  
Verdict:
'Abhinetri-2' loses its focus quite early on.  Many scenes are repetitive and insubstantial.  The narration is not smart; it tends to confuse the audience.
Rating: 2 / 5.0
Showcase your talent to millions!!
Write about topics that interest you - anything from movies to cricket, gadgets to startups.
SUBMIT ARTICLE
More
Telugu Movie Reviews
Kota Bommali P.S
Aadikeshava
Sound Party
The Trail
Spark
Sapta Sagaralu Dhaati (Side B)