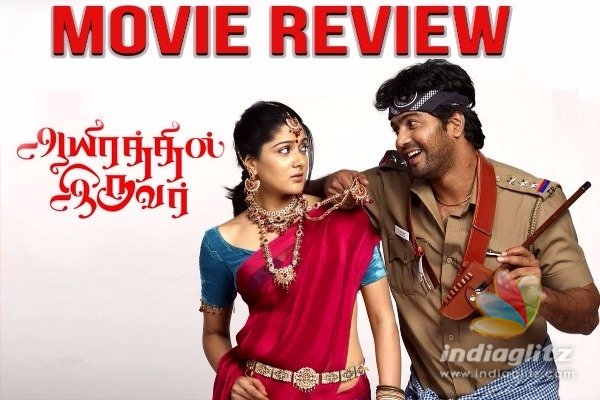 Director Saran from the K. Balachander school made an impact by gaining huge success in commercial cinema at the beginning of the new millennium and it is no exaggeration to say that he helped make the mass hero career of Ajith  and was instrumental in the takeoff of Vikram in the mainstream .  Sadly Saran's comeback after a few years does not do any favor to his career graph.
The film opens interestingly enough as twin fetus become enemies in the womb itself and promise to kill each other.  We wait with much curiosity for them to grow up and tear at each other's throats but it turns out to be a never ending wait as they meet only for a couple of minutes in the climax.    Vinay plays twin brother Sevathakaalai and Senkattai , the former a thief in his hometown  while the latter who runs away to Hyderabad following a girl in his teens turns into a havala transporter.  The twins father mistaking that his rival killed his son murders him and his widow is waiting for a chance to get even.  The Tirunelveli  Vinay is in love with Athirshtamalar (Samuthirika is our guess) while the teenage dream girl of the Hyderabadi Vinay is named Bhoomi (Swasthika) who has the password to crores of rupees imprinted on her breasts (we are not kidding) and on the back of her hips.  There is also a supposedly funny group of rowdy moneylender (Aruldoss) and his gang who revere their father suffering from alzheimers.  There are also two villainous women Kajal Pasupathi and Kesha Khambhat who are after the girl with the password tattoo.  All these characters collide and if you are thinking on the lines of a Crazy Mohan climax the joke is on you.
Vinay who just impressed with his heartless killer in 'Thupparivaalan' can forget 'Aayirathil Iruvar' in a hurry as both his characters are written wafer thin with no underlying subtext for him to score.  Among the girls Samuthrika is ok as the small city model who tries to muscle her way into the heroes house.  The other two girls and the first one too are made to strip in the songs and some scenes but with no justification in the script even the skin show is wasted.  Kajal and Aruldoss provide the chance for half a smile with their instant romance while Mayilswamy and Ilavarasu fail to even do that.  Daniel Annie Pope is wasted.
The plus of 'Aayirathil Iruvar' is the use of Tamil names for the characters but at the same time you cant help laughing when a distinctive looking  North Indian girl is addressed as Athirshtalakshmi.   The director has given equal footage to almost all the characters including the mothers but that has also proven counter productive because he misses out focus on the story he set out to tell of the twin brothers hating each other to death.
Bharadwaj's songs give the impression of a dubbed movie while the camera and the editing cannot be blamed when the script is totally off color like this one .  It is hard to believe that Saran has directed this mess and one can only hope that he puts it behind him and comeback with a novel and contemporary screenplay that he is known for.
Verdict : Venture into this one at your own risk.
Rating: 1 / 5.0
Showcase your talent to millions!!
Write about topics that interest you - anything from movies to cricket, gadgets to startups.
SUBMIT ARTICLE
More
Tamil Movie Reviews
Kuiko
80s Buildup
Chevvaikizhamai
Jigarthanda DoubleX
Japan
Leo