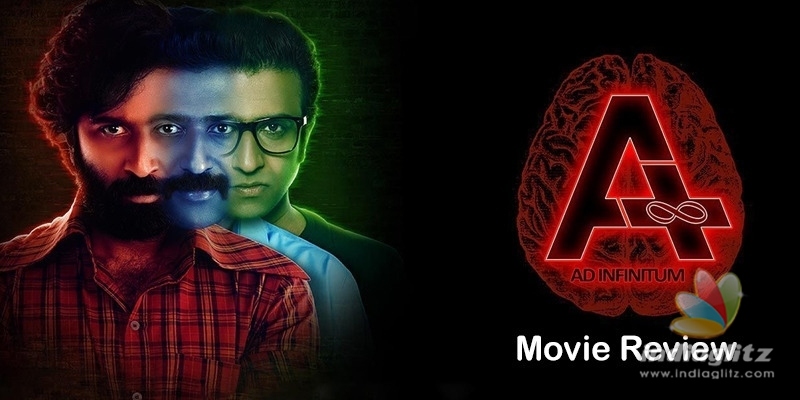 'A (Ad Infinitum)' is one of the several movies that has come out this week. Here we review the thriller.
Story:
Sanjeev (Nithin Prasanna) is introduced as a differently-abled private employee. His wife Pallavi (Preethi Asrani) is a nurse. With their little kid Amrutha (Baby Deevana), they lead a fairly normal life but for the fact that Sanjeev, a memory loss patient, is haunted by strange nightmares. There comes a point when Sanjeev becomes a suspect in an important case investigated by Vishnu (Rangadham). What is Sanjeev's past? Can he reconcile it with the present? Who is the criminal and who is innocent? Answers to these questions are found in the second half.
Analysis:
The story of 'A' spans decades, moving to and fro from 1970s to 2019. It revolves around a married guy who goes in search of knowing his past. What do the 1970s remind you of? Indira Gandhi. Emergency. The film has a character who wants to topple the dictatorship of Mrs. Gandhi. And this backstory is not a mere red-herring. It enriches the saga although it doesn't have a direct bearing on what the film eventually seeks to narrate.
Nithin Prasanna, who plays a challenging role, comes across as a seasoned performer with a solid grounding in stage performance. He is nuanced and is entirely endearing in whatever he does. In a way, the actor looks like a good-natured, distraught Malayalam movie lead. That says a lot about how the setup of 'A' is driven. Preethi Asrani, who made a name for herself with 'Malli Raava', is surprisingly good in the role of an anguished wife.
The film deploys a number of disparate elements throughout its run-time. The male protagonist gets panic attacks, a top cop who is on the verge of retirement wants to solve the case of a series of child kidnappings, a wife is disillusioned with her husband, police egos kick in, and then there is a scientific experiment. The ideas of utilitarianism and the larger interest of humanity are mentioned.   
And, when the suspense has to be revealed, the film becomes even more slow-burn than what it has already been. 'A' requires a lot of patience to watch. At about 153 minutes, the film seems to go at the pace of a snail. In this regard, it is important to mention recent experimental (and misunderstood in different ways) thrillers such as 'Manu' and the Netflix release 'Andhaghaaram', both of which ran up to 3 hours. Some moody thrillers perhaps invite the filmmaker to stretch the run-time organically.
Praveen K Bangari's cinematography is praiseworthy. Vijay Kurakula's background score is compelling. Binil Amakkadu's Sound Design could have been better.
Verdict:
'A (Ad Infinitum)' is a slow burn thriller where science is an important element. There is also a political movement involved. It's a crime film and a semi-period drama, too. It's also an emotional family drama. The overlong film has got strong performances. However, it can test your patience if thrillers are not your thing.
Rating: 2.75 / 5.0
Showcase your talent to millions!!
Write about topics that interest you - anything from movies to cricket, gadgets to startups.
SUBMIT ARTICLE
More
Telugu Movie Reviews
Peddha Kapu 1
Skanda
Chandramukhi 2
Sapta Sagaralu Dhaati
Changure Bangaru Raja
Mark Antony