Music Review
IndiaGlitz [Thursday, September 10, 2015 • தமிழ்] Comments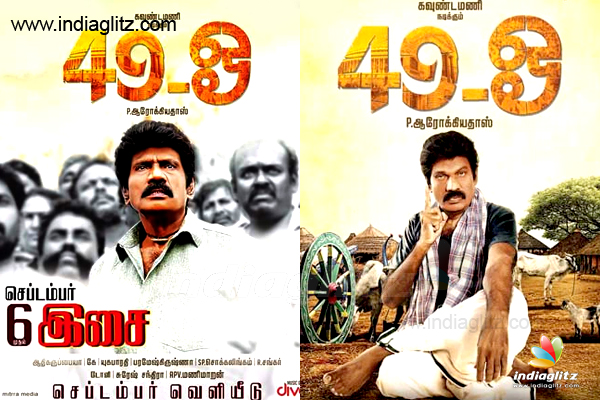 Goundamani is back in action with 49O, a flick predominantly made on the life of a farmer. Music has been composed by K, who after a mix and match is returning to folk. Let's find out how the music has fanned out.
Amma Pola: Listen here
Singers : Jayamoorthy
Lyricist : Yugabharathi
As soon as you start hearing the song faint reminiscent of various folk fare songs in current trend comes to the mind. The recursive bass percussions and rhythm overtakes the vocals crooned by Jayamoorthy, which is rigid and tags along with the music. The lyrics talk about rain and how much the very fact means to agriculture and farmers.
Aruvava Kannu Rendum: Listen here
Singers : Abhay Jodhpurkar
Lyricist : Yugabharathi
Abhay takes this number sky high with his vocals which is aided by some wonderstruck mandolin work. The song itself shoots off with mandolin and goes between the interludes with other orchestration. K has done the experimenting bit well with varied percussions into a lively folk song.
Innum Ethanai Kaalam Varai: Listen here
Singers :Thenisai Chellappa
Lyricist : Yugabharathi
Like the title of the song, the number is desperate with motivational lyrics and promising music. K spins out an equally good background to present a decent theme for the song, even better the movie itself. Yugabharathi's lyrics and Chellapa's vocals work in tandem to K's usage of strings and brass sections. Overall the song is a treat.
Vote Podunga: Listen here
Singers : Jayamoorthy
Lyricist : Yugabharathi
Yet another folkish song from K, comes with a lot of irony and satire for which comedy king goundamani is famous for. Like the title, the song looks to foray into comic sense and gives a funny feeling by the time we reach the end as the end product provokes some sense as well. Hariharasudhan's strong vocals add presence to this song which rides high on satire and lesser in terms of music.
Overall an album that should be better off with the visuals.
Rating : 2.5/5