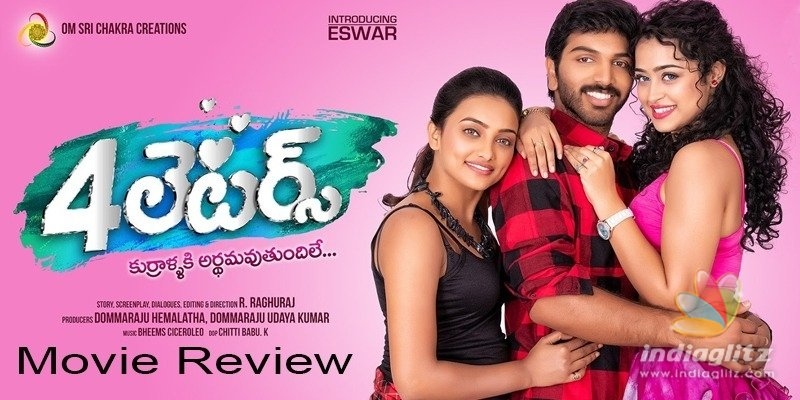 '4 Letters', starring debutant Eswar, Tuya Chakraborty and Ankitha, hit the screens this Friday.  Here is our review of the rom-com.
Story:
Ajay (Eswar) is the son of a billionaire (veteran actor Suresh).  Studying Engineering at a mediocre college in Hyderabad, Ajay lives life king size.  Known for his mental prowess in his circle, he gets attracted to Anjali (Tuya Chakraborty).
Anjali is the daughter of a distraught mother who hates rich people.  She knows that she is in love with a filthy rich guy much against her mother's wishes but can't help it.  She has also started neglecting her aim of becoming a violin maestro.
What happens when Anjali's mother comes to know of the love affair?  Can Ajay convince his girlfriend's mother?  Or does he have other plans?  What is the role of Anupama (Ankitha) in the story?  Answers to these questions are found in the second half.
Analysis:
If you are wondering what is the title all about, here it is.  Anjali's mother keeps brainwashing her daughter to avoid four letters in the English alphabet.  They are: R, I, C, H.  On her part, the daughter tells her mother that she will avoid four more letters: L, O, V, E.  Together, the mother-daughter duo eschews 'rich' and 'love'.  And Vidyullekha Raman's character thinks that the only four letters that matter are: F, U, C, K.  Thus, the title.  
We give a damn for those four letters.  But if the film has to be described with four terms, here they are: Perversion, skin show, assault (on senses), and rank incompetence.  
We are told that the hero is a genius who can make even a Noble Prize-worthy professor tremble with his intelligence.  He asks even Gods to seek wishes from him.  At one point, the heroine even tells him that she can become a billionaire with the inspiration given by him (he inspires her with this outdated line: "If you will it, even the Everest can be under your feet".  OK? OK).  He is even described as a Tsunami (tsunami of stupidity he surely is).  But guess what he does in his life?  Moves with a bunch of friends (Dhanraj, Mahesh Vitta, Venu) who think that life is nothing if you don't booze.  Speaks so horribly with the girl he loves that she starts thinking that she should sleep with him and his friends to be able to save herself from his trap.  Forgets everything after a break-up and gets ready for a crass affair so fast that such swiftness is possible only for a heartless rascal or a sex-obsessed philanderer.  
Director R Raghuraj comes with dated ideas like these: boys leering at a lady lecturer; a male lecturer forgetting to zip up; an ANR-imitating lecturer; a sexually-frustrated girlfriend who fails to make her boyfriend realize that she is dying to have fun with him.  
At no point in the film do you feel that a story is being told.  A set of disjointed scenes filled with mediocre and indecent characters is what that is there.  Even the two halves of the film are disjointed.  
The debutant hero's acting is a complete disaster.  His dialogue-delivery is an embarrassment.  Tuya and Ankitha are reduced to being glam dolls.  Posani Krishna Murali and Suresh are forgettable, so also Sudha, Annapurnamma and others. Ridiculous cinematography and songs complete the circus.
Verdict:
'4 Letters' is a perfect assault on the audience's senses.  Perverted dialogues, embarrassing love stories, incoherent scenes, loads of double meaning lines, and outlandish college campus scenes are what the film has.
Rating: 1 / 5.0
Showcase your talent to millions!!
Write about topics that interest you - anything from movies to cricket, gadgets to startups.
SUBMIT ARTICLE
More
Telugu Movie Reviews
Peddha Kapu 1
Skanda
Chandramukhi 2
Sapta Sagaralu Dhaati
Changure Bangaru Raja
Mark Antony