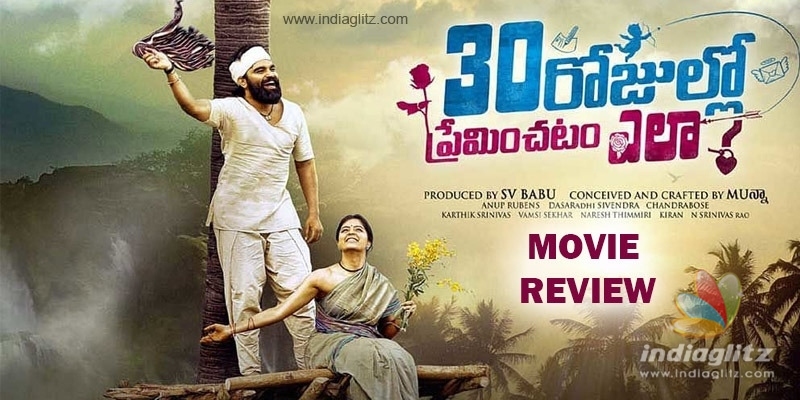 '30 Rojullo Preminchadam Ela' hit the screens today (January 29). Here is our review of the latest Telugu cinema outing.
Story:
A kusthi fighter gets defeated in a fistfight and dies a tragic death believing that his girlfriend has ditched him for someone else. Decades later, the duo is reborn as Engineering students in Vizag. Arjun (Pradeep Machiraju) and Akshara (Amritha Aiyer) are bitter enemies from Day 1 of their college. They don't know why they hate each other. But God has a supposedly wise plan for them. They will be made to lose themselves in each other in a surreal way and suffer from an identity crisis.
Analysis:
So many films, including the mass masala classic 'Magadheera', have used the reincarnation trope for decades in Indian cinema. This film borrows the concept of rebirth and gives it a banal spin in the name of divinity playing a clever game. Far from being intelligent or ennobling, '30 Rojullo Preminchadam Ela' gives a pounding headache that can make you forget your yesterday while the lead pair remembers their previous births at the audience's expense.
Besides being a mockery of love, comedy and Past Life Regression, this film also suffers from a lack of commonsense. Nowhere in Kiran Bheenu's story, up till the pre-climax phase, do the lead characters ask themselves if they can seek somebody's help to get rid of the uniquely-unique quandary they are in. When your future is under a cloud and you may never regain yourself, you literally go mad. Arjun and Akshara, too, go mad. At each other. As they have been doing since their first scene together.
Hema playing the hero's mother is the biggest warning that the film's casting process happened with mighty budget constraints in mind. You expect to have some poetic takeaways from a reincarnation film. But, more often than not, you see characters boozing, cheating, lusting and insulting in this film.
In the sea of childish absurdities that this film is, Posani Krishna Murali's character comes with a dose of seriousnes. But the maudlin acts around him are too old-school in nature. Are our filmmakers not tired of abusing our dark-skinned comedians as 'Nalla pandi' and all? If they don't know it's racist and racism is reprehensible, they should stop these 'jokes' at least because they are stale.
The film makes use of popular cinematic moments from blockbusters such as 'Athadu', 'Baahubali' and 'Bharat Ane Nenu'. When the hero is not busy harassing others, he bonds with Posani's character over whiskey. The labour pains of a woman are used manipulatively and there is no depth here.
Pradeep Machiraju, self-aware that he is doing a comedy film, cribs that a superb Boxing-powered introduction scene was spoiled by his mother. Boxing makes a serious entry only in the climax even though the hero is so very mad about the sport. Amritha Aiyer's acting chops are actually better than the hero's, especially in the second half.
Subhalekha Sudhakar and Jabardasth Mahesh are seen as spiritual seekers whose only job is to talk about the lead pair's romantic destiny. Had Anup Rubens not conceived 'Neeli Neeli Aakasam' for the movie, this one wouldn't have got whatever little buzz that is there.
Verdict:
'30 Rojullo Preminchadam Ela' is a ruined story from the word go. The reincarnation saga is spoilt by silly comedy and immature situations.
Rating: 1.75 / 5.0
Showcase your talent to millions!!
Write about topics that interest you - anything from movies to cricket, gadgets to startups.
SUBMIT ARTICLE
More
Telugu Movie Reviews
Karthikeya 2
Laal Singh Chaddha
Macherla Niyojakavargam
Sita Ramam
Bimbisara
The Legend