Music Review
IndiaGlitz [Thursday, October 8, 2015 • தமிழ்] Comments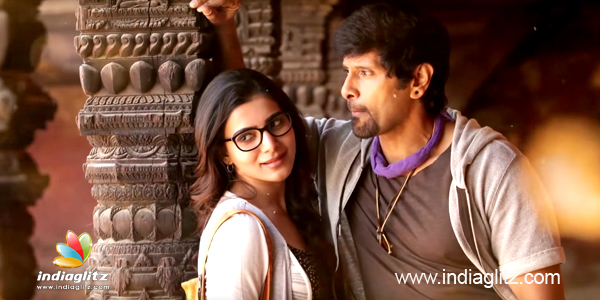 Vikram, Samantha and Vijay Milton are ready for this roller coaster action entertainment due to release this month. Imman has composed with a certain flair and so here are the songs and review
Gaana Gaana : Shreya Goshal's vocals have gone through different phases and this is probably a different attempt from one of the country's finest singers, a clean folkish attempt that runs through rich western jazz and contemporary symphony too. A different attempt from Imman mixing various ingredients that jumps between variations comfortably.
Pathu Endrathukulla (Male)
Singers: Emcee Jesz, Vishal Dadlani Lyrics: Emcee Jesz, Mani Amudhavan
The song shoots off with a countdown using the unique sounds by fusing motorcycle and electronic piano. The initial beat is simply stunning and for a composer who is stereotyped with folk, this is completely urban and super cool. Vishal's vocals blend to the core; the foot tapping slow metal and sluggish Hip-Hop cater the kick. The acoustics look as if being performed live and Imman has done his homework in giving the album's winner.
Mysterious Travel:
A theme high on its Bass and electronically enhanced drums unveils like a story telling BGM, probably a tune that would suit well for the theme of the movie and situation wise. Imman has used strings, a far stretched solo echo, bits and pieces of classical flute. Overall one to watch with the movie.
Aanalum:
The songs off with a catchy solo ghazal kind of gesture and Sathya Prakash capitalize on the tune with a breezy hum sure to catch the attention of youngsters. The lyrics is mesmerizing with a lot of Hindi chatter and Imman has captured it with a trendy folk like atmosphere, the ones you could here with your earphone and keep nodding your head as you walk. But that's all for the start, between the interludes it loses a steam and again revived by the solo hum.
Pathu Endrathukulla (Female)
Singers: Vaikom Vijayalakshmi Lyrics: Mani Amudhavan
The same racy track is retained for female vocals with Vijayalakshmi in full flow, Imman has treated the tunes of the track by retaining the original rhythm with a slow classy touch. The fusion is spot on and suits Vijayalakshmi's tone and dies down with Hiphop and palpable acoustics.
Vroom Vroom
Singers: Santosh Hariharan
Lyrics: Karky
Chiyan is a youth icon, and here's a song that is based on the passion of gen Y - speed. Titled 'Vroom Vroom', this single from the action thriller '10 Endrathukulla' is a high energy, racy number, making for a perfect title song for the hero. Karky's lyrics define the protagonist - dynamic, magnetic personality, a racer and a simpleton. This song is a dance number, with steady beats throughout. There are three references drawn, each between two stanzas, to famous personalities; the manner in which these portions are musically blended to the rest of the song is noteworthy. With zesty thumps and classy guitar, this energetic number is a perfect welcome note to a thrilling experience that lies ahead.
verdict : Imman experiments with urbane flavor with ease.
2.75/5